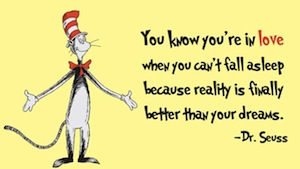 I was born on Mothers Day Weekend and every year my grandmother loved to tell me the story about our Rabbi, who in his sermon that week said he had just been in to visit the most bee-UTIFUL mother with her most bee-UTIFUL baby. "What a Mothers Day gift," he said.
And of course, I always have to rub in what a beautiful baby I was.
I did take the time to celebrate the love of my mom, and my grandmothers this weekend, but as I get older (as I also did this weekend) I think more and more about my decision not to have kids of my own.
Having the responsibility of a small human being is more than I ever wanted to take on in my life. I have never had that maternal instinct other than for my dogs. If it were a gene – the desire to be a mom – it was completely left out of my DNA.
For one thing, I know I would worry constantly. But also, I am way too selfish with my time – I just know this about myself.
I never took this decision lightly and constantly revisited it. By choosing not to have kids of my own, I knew I'd miss out on some things.
For example, my kid won't ever call me from Seattle to tell me she just took a job in Sandpoint, Idaho (where?!?!) and has two weeks to wrap up current job, get Seattle condominium ready to rent and find a tenant, pack up entire household and arrange a move, find an apartment in Sandpoint, unpack, and present the marketing strategy for the ski season her first week at her new job.
I'll miss out on the chance to drop everything (as Mothers do for the kid they love) and fly out to help said kid make it all happen. I won't drive her to Idaho from Seattle and listen to her cry the entire way there while giving her full support in her adventure and reminding her everything will be OK. I won't be there to laugh with her when she shuts her finger in the door at the rest stop because she's still frantic.
Like my Mom did for me.
I won't ever spend a rainy afternoon in a Greenwich Village bar with my two daughters making friends with everyone in the place while learning how to do tequila shots properly (salt before or after lime?).
Choosing not to be a Mom involved a great deal of soul searching. What are the right reasons for choosing to be one and the wrong ones?
Now "that ship has sailed," as my sister says, and I don't regret it. Ever.
Because I still get to hear the words Happy Mothers Day thanks to my stepdaughter. And none of this means I won't get to be a role model for her, my nieces and nephews, and my two grandsons. I still get to share my wisdom and hopefully be a role model paying forward what was and still is given to me by my Mom as well as others who have played that role in my life.
If anything, I can show them you can be happy being independent yet very happily married, run a business, and do things your way.
I'd support them, as my parents did, to experience life. I'd give them these
Five lessons on life
Putting your education "to use" doesn't mean you have to start your career right away. Do things. Travel the world and follow adventure. These experiences shape you.
"They" (the proverbial "they") don't really tell you about all the jobs out there. That's why Step 1 is important. Don't feel like you have to jump into things – go out and be. Get to know yourself and with that, you can take the things you love and make it into a way that provides a living. Do things you love to do. That's allowed, by the way!
Make decisions for yourself and not based on others' in your life. This isn't to say to not take others' into consideration. I mean make sure you are taking your best interests into account without hurting others. That whole thing about loving yourself first is important.
Making yourself happy means you don't have to rely on others for happiness. That is a pretty powerful feeling. But it also means you then have the ability to make other happy. So go take yourself out on a date with yourself – do dinner and a movie alone and have fun.

Say yes to opportunities when they feel right, even if you have to work to make them happen.
Most of all, I've always felt there is a safety net if needed. I have yet to use it, but it's an empowering feeling to know you can teeter on the edge, scare the hell out of yourself, and there is someone to talk you off that ledge, or catch you at the bottom.
What would you add to this list?
---
Download From Transactional to Transformational: Elevate your organization's positioning with effective storytelling.
[ssba]