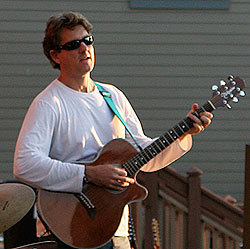 Today's Flash Friday post is written by Rusty Speidel.
Each Friday, I invite a guest to share something personal: Some way they've balanced ambition with happiness; achieved a personal goal; and/or a way they have converted an idea into action. 
If you have a story you'd like to share in a guest post, please contact me here. 
"Everything you want is just outside your comfort zone."
I have lived in Charlottesville, Virginia forever, it seems. Actually, I moved there for my first stint during college back in 1978, and stuck around until 1987. After a time in Washington DC, I was back for good by 1993. I just love it too much.
In fact, I love it so much, I made a lot of professional compromises along the way so I could stay there. They all seemed worth it at the time. For awhile, I was doing interesting digital work for national brands, then I built a couple of startups, then I worked in social media agencies. I learned a great deal during this time, and things stayed fresh. But mainly I was comfortable, fat and happy, and living the "balanced life."
Until the bottom dropped out.
Charlottesville is a tough job market now. If you don't work for the University of Virginia, run a hedge fund, sell insurance, or practice law, it's difficult to put together a compelling, steady paycheck. After awhile, you start to lose faith in the system and yourself. You eat too much, exercise too little, and sleep poorly. Skills become mushy. Dreams of security become elusive. Retirement becomes unthinkable.
For the past five years, I had been gradually converging on the one decision I thought I'd never make: Relocating. I was going to have to do what was necessary to get my career back on track before it was too late.
Deciding to take a job somewhere else after 20 years is an EXTREMELY big leap. The idea of leaving my friends, interests, and family behind during the week was daunting, to say the least. My wife and kids made it pretty clear they would staying right where they are, thank you very much.
How would being gone all week affect my family life? Where would I bike? What would happen to my music career? Would I lose touch with those people I've spent the past two decades building relationships with? Where would I live? I'd miss the dog!
And so on and so on.
On Making the Tough Decisions
I am now in Week Two of a great new job at an amazing company in Norfolk, Virginia. I'm running a huge website, which is what I love to do almost as much as biking or playing music. I'm energized by the people, the change, the ocean. I'm no longer worrying about the future and I'm sleeping again. My pride is gradually returning. It's all good. The best part is I still have weekends in Charlottesville to re-connect with my home, my friends, and my passions.
Shaking things up and taking a risk has turned out to be the best thing I could have done. I have not even had one moment of regret, worry, or sadness over the decision. So if you're feeling complacent, flat, bored, or uninspired, shake things up.
Hang it out there. Make yourself nervous. I promise it's worth it.
[ssba]