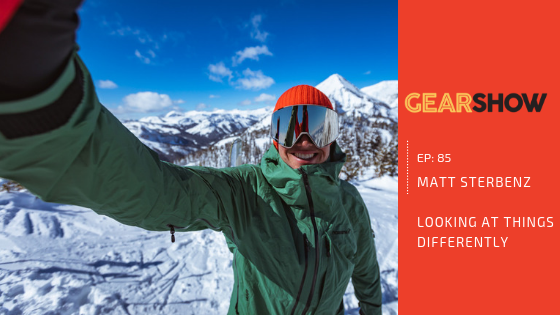 "Sometimes, you have to blank the hard drive to think openly about new ideas, creating solutions to problems you don't necessarily consider to be problems." – Matt Sterbenz
I'm reading The Art of Possibility right now by Rosamund and Benjamin Zander. I've learned that frogs only see light and shadows and contrast in order to see bugs flying in the sunlight because that's what they need for survival. They don't even realize what they don't see.
It makes you wonder, what don't WE see?  
Matt Sterbenz joins us today and pushes us to think more about that – not about frogs and what they see, but about how to solve a problem you didn't realize was a problem. How to see things you don't see.
A highly respected figure in the freeskiing industry, Matt Sterbenz has spent his career developing some of the most exciting and progressive skis in history. Matt's life in the ski industry began when he and his peers of pro skiers began to feel underserved by large, European ski sponsors that focused solely on creating skis for racers. At the time, the freestyle skiing movement in the U.S. was just beginning, and this new discipline demanded progressive new ski designs that the European industry simply wasn't producing. Matt founded 4FRNT skis and worked with top athletes to create some of the most cutting-edge shapes in the industry. 
After spending much of his career innovating on shape, materials was the next frontier. After 16 years at 4FRNT, Matt left his post to begin a role as GM of Wintersports at Checkerspot, expressing a strong desire to bring innovation to an industry that had relied on the same materials for decades. 
So in 2019, Matt launched WNDR Alpine, a new brand utilizing biobased materials to improve product performance up and down the mountain.
We talk about:
What does it takes to innovate? 
Where does the entrepreneurial mindset come from?  
How to launch a ski brand on your own terms, in a way that brings joy.
So, with that, let's listen in and gear up for what's next. 
Where to find Matt:
Want to do me a huge favor?
Reviewing and sharing are the most helpful ways to get this in front of new listeners.
Make sure and get the next episode in your inbox – subscribe right up there, top right of this page.
If you enjoyed this podcast, I would LOVE it if you reviewed it here on iTunes! It makes a big difference!
I really want to hear from you – questions, topic and guest suggestions, anything. Talk to me in the comments below or here.
See you next week!
[ssba]