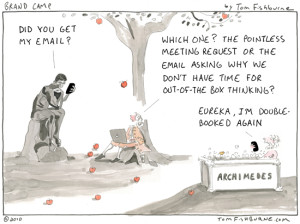 Back in the early days of my corporate career (I really wanted to start with that line because it makes me laugh and makes me sound old), we used to joke about meetings being the alternative to work.
No one is to blame; that environment just lends itself to the necessity of meetings. It's hard to accomplish things without having buy-in from a variety of departments. Someone comes up with an idea outside of the agenda, and boom – let's schedule a meeting to discuss it.
I'd be willing to bet a majority of those meetings could be killed with a good Google shared doc. I just did it last week. A colleague and I had the most productive 45 minutes ever, completing a draft of a home page video script.
Without a meeting.
I wrote a first draft; he put it into shared docs. He numbered the paragraphs, and we used the chat feature and collaborative editing and moved stuff around, debated, reverted to previous versions, moved forward, and ended up with a final draft for the CEO. Which we emailed for approval. and received with one change.
Without a single meeting.
I have to consider how every minute is spent and ensure it's worthwhile. I know you do too. When a meeting is suggested, I make sure this proposed meeting is a productive use of my time, and if it's billable, of my client's resources.
Is the meeting necessary? Is there an alternative?
Is this meeting being called simply because members of the team are unable to respond to and use technology?
"What's the next step?" 
I wonder how many hundreds of hours of my life could be taken back if we just had asked "What is the next step?" rather than "when can we meet to discuss?"
This is the classic Getting Things Done method. Often project paralysis sets in because we don't know how to move it forward. Ask what the next step is and who should take it from there. I bet we just killed another round of meetings.
When meetings matter
I have weekly meetings with each of my clients. This is far from a waste of time. It gives me the opportunity to see them (if we're using video calling) to review metrics and look at what needs refining; to discuss the week or the month ahead; to stay in touch with all that is going on.
I try to consolidate meetings into the first two days of the week if possible, giving me the other days to you know, actually do work, think, and solve creative problems. Sales people want to demo products, your team wants to brainstorm, people want to catch up on Skype, and colleagues want to review and discuss projects.
It's a great problem to be busy but if you want to get stuff done, it might mean finding a productive alternative. No, meetings are not dead. But a good percentage of them should be.
Save a woman- and/or man-hour; kill a meeting today.
Was your last meeting productive? Could it have been avoided?
Photo credit: Tom Fishburne, marketoonist.
[ssba]