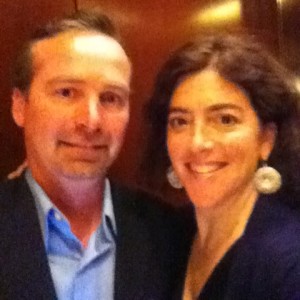 When I was offered a "dream job" in the mountains a little over 10 years ago, I didn't think twice about jumping at the opportunity. I was scared to leave my home in Seattle, my friends, my good job, my nice condo. But I had known for awhile I was ready to go back to the hills. They were calling me.
One thing I did remark was "Boy, if I thought the dating scene in Seattle was bad, it's going to be really really lonely in Sandpoint, Idaho."
Funny thing happens, when you decide you're going to grow old alone in your cabin in the woods and that sounds just great: Perhaps a former potato farmer starts chatting you up in line at the espresso bar and you learn things about potatoes you had no idea — seed potatoes, generations of potatoes. You are fascinated because your life change is like a scene out of a movie. They don't talk about this stuff in line at Caffé Ladro in Seattle.
And then you'll marry him later, much to your unbelieving self in line that day.
As a teenager, I read a lot of Sydney Sheldon, please don't judge. All that trashy romance might have given me a distorted idea of what love, life and reality was. I envisioned over the top romance, being proposed to on the Seine in Paris, the handsome tall dude towering as he bends over to kiss me.
When Patrick proposed to me in a jazz bar in Nelson, BC on the eve of two enormous powder days at our favorite ski resort, about five years after we had sat at that same table on our first trip away together ever, I realized this was indeed the Seine.
I'm writing about this today, not only because it's Valentines Day, but to talk about partnerships in marriage and on how the best marriages make us more successful.
I had pretty high expectations thanks to my man Sydney Sheldon. I waited until my mid 30s for my husband to come into my life and until my early 40s to marry him. I dated a lot. I even dated a nice Jewish guy who was retired at 36 and really dug me. When I broke up with him, I was told I'm too picky.
Well, yeah. You bet your ass I'm picky. I'm on a journey that I intend to describe as epic. Having someone by my side who falls short of that in any way is settling for less than I deserve.
If I were to share advice with my 20-something self now, I'd tell myself this.
A great partnership is when you're better together than when apart.
This does not mean you are connected at the hip. It means, together, you accomplish so much more than you are able to do individually. I look back 15 years ago and am ridiculously proud of how far we've come from our low-paying but fun, ski resort jobs.
It's a little bit easier to go out and do things that scare the hell out of you when you have someone who sends you out the door with a boost in the head and a kick in the ass each morning and is waiting at the end of the day un-judging and there to support you.
Those we love should also give us hard love.
Un-judging doesn't mean they don't tell us what we need to hear. I've been bitch-slapped more than a few times with the good truth about something I need to know to make me better at what I do. Sharing those tough words pushes us into something maybe we didn't want to do, or were afraid to do. If nothing else, it pisses you off and makes you think.
Bad things should actually draw you closer.
The recession smacked us down pretty hard. I still remember the hard metal lump of anxiety in my belly when I'd wake up in the middle of the night. I thought at the time, it's amazing we can become closer to each other during this time rather than point fingers. There were no fingers to point, yet I could see in times like that where an ordinary couple might find reasons to point.
We had backup plans if we lost our home. We were eating ramen noodles. We were holding hands at night in bed.
Being married is not a ball and chain.
We bumped into a friend one morning who said she was accepted into a program in Antarctica and was leaving for six months. I felt a pang of jealousy. Not for Antarctica but for the freedom to be able to go somewhere. Oddly, several months later, I'd be offered a job in Chicago; an opportunity I didn't want to pass up. It was a little crazy to act on it, and I think most spouses would have been against it. I don't think mine liked it, but he supported me 100 percent and took me there in January of 2011 to settle me into my little studio apartment the weekend prior to my first day on the job.
We are all worthy of someone to help us through our epic journey. I see way too many people settle because they think they won't find better. I sat through countless weddings in my 30s feeling depressed and insecure that I hadn't found the love of my life yet, and why is that? I worried and worried that I was destined to be alone. Looking back, I wish I hadn't ruined all those great single years with so much anxiety.
P.S. It's never perfect, and it's always hard work and I learned later as I wrote this blog post he was out skiing without me. Dog House. But I can't complain, even my wedding vows ended with the disclaimer:
"Unless it's a powder day."
---
Interested in elevating your organization's positioning with effective storytelling?
Download this ebook: From Transactional to Transformational
[ssba]