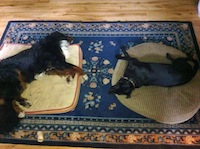 I've spent too many hours sitting through mediocre presentations in my lifetime, so I've been giving this topic some serious thought.
Public speaking is nerve wracking. It takes a lot of work, and whether you're new or experienced, the feeling doesn't dissipate. I've only done a handful of speaking engagements so I'm far from an expert on the topic. My goal today is to explore what makes an outstanding speaker, and how we can prepare to become one. Being mediocre just isn't an option.
I'm in the final stages of preparation for my talk at the Spokane Marcom Association to discuss marketing technology and the role it plays in our profession. When the invitation arrived in my inbox earlier this summer, it made my day: I was honored, of course.
As the day approached, I then began to wonder why I do this to myself. Sunday night I went to sleep with that nauseating feeling in the pit of my stomach – the idea that I have nothing new to share with this audience, and I should quickly create a family emergency and cancel right away. Or… maybe I could just not show up? Yes, not showing up actually crossed my mind!
Fortunately, I woke up from that bad nightmare and realized it just needs some work and a lot of practice, and as luck would have it, I had five whole days to pull it together.
Nine Ways to Become an Outstanding Public Speaker
Identify the premise of the discussion. Jill Foster offered me great advice. If the host/hostess of the meeting suddenly told me I had 90 seconds rather than 45 minutes to talk, what would I say?
Create the outline. Define the problem or obstacle, explain the why and the what, and show a resolution.
Write the whole thing out in stream of consciousness. This helps me. I imagine many of you don't agree. From there, I can edit and re-order the sections as needed.
Edit heavily and break it back down into speaker notes. You don't want to have it written out word for word. The delivery will end up sounding canned.
Determine how you'll start with an impact. The beginning is critical. You want to do something to capture attention right away, break the ice, and set the stage for the next 45 minutes. I kept getting stuck here because I was trying to do this first. It was much easier to do after the entire outline was created. I brainstormed with my husband during a dog walk one morning and he had a great idea for a screengrab of a funny review that would illustrate my premise well. All of a sudden, pieces were falling into place.
Create slides using as many visuals as possible and little text. I am officially in love with Keynote. The more and more I worked with it, the more features I discovered. It has gorgeous, professional templates. It is very easy to use, and guides allow you to line the graphics up beautifully, along with drag and drop images. You can "rehearse slideshow" and it shows you a big timer as well as the next slides in the screen. ALSO, you can download Keynote Remote app on your iPhone and use it as a remote control clicker so you don't have to carry around another device. The phone displays the speaker notes as well as the slide so you don't have to look over your shoulder to see where you are.
Then, Sunday night arrived along with the previously mentioned panic attack.
Polish it. Monday morning, fresh as a bug with a cup of coffee, I looked at my talk, smoothed out the transitions and worked on the storyline. Be sure there are takeaways and provide a clear resolution at the end. (I did this with an image of hugging polar bears. Who doesn't love that?)
Practice delivery. Give yourself plenty of time to do this. Practice out loud. If you can, get an audience. I had two dogs, and you can see above the effect my presentation had on them. If you can find humans to keep awake, do that – even better. Video record it so you can see your body language and facial expressions. Time it, and keep practicing until you know that baby inside and out.
But more importantly, I'd like to hear from you. How do you prepare for your speaking engagements? What advice can you share? 
---
Download From Transactional to Transformational: Elevate your organization's positioning with effective storytelling.
[ssba]