I recorded a video the other day to share a thought I had on listening for great stories. I watched it afterward and sat on it for days. Why can't I be natural on video? IT drives me crazy. What is so intimidating about staring into the lens of a camera and speaking vs. looking into someone's eyes and speaking? Rhetorical question. But if you do have the answer, I'd love to know.
I ran it by a colleague and decided to publish it and duck. Just put it out there and look away.
I guess it happens to all of us – that vulnerable moment when it's time to put your work out for others. You wonder how it will be received. Will you be criticized? Are you taking a stand for something that will generate backlash? Will this thing you've created achieve what you hope it will?
I want to address the hurdles – the things that cause inertia in your progress to put your stuff out there. It's comfortable enough to sit in your office/home, creating beautiful ideas, but until you get it out there, nothing is going to happen.
Process
Unless you are a solopreneur, I'm assuming your stories need to be vetted by a number of people and that's a good idea, but the pitfall is that everyone feels like they need to add their "genius" to said work. They would do it differently; therefore, here is their input.
The trick is in being able to discern when the feedback elevates the work and when it starts to compromise it. Understand the difference when the input is semantic or genuinely making a better point. Maybe it's softening language that would get you into trouble. Is it compromising your point or really protecting you? A good conversation needs to take place.
In your never-ending desire to be universally liked, we dilute our message, which sacrifices our ability to be loved by a small group. Don't allow decision-by-committee to dilute your message.
Leverage
You are time-strapped. Who isn't? So then why do some seem to get so much done while others don't? I believe a storytelling process actually saves you time. You get rich content you can use in everything you do. Input from these stories gives YOU a deeper understanding of what you should be talking about. It saves you time when staring at a blank screen wondering what to include in that next email or report.
You can use one story in multiple ways. We did an hour-long video interview with the school district superintendent, which turned into multiple videos, three blog posts, and a social post. Can you take something like video or audio and then leverage it into other uses? Bring it into your email newsletter—link to a more significant piece on your blog. By the end of the year, you'll have several stories you can aggregate under a theme and use them in your annual report. All along the way, share what you are learning on social media.
You find yourself brimming with content rather than scrambling to find something useful and compelling to say.
The failure lies when we spend too much time behind our desk operating from a vacuum.
Perfection
Our pursuit of perfection is the biggest hurdle (and the most excellent invitation to procrastination).
"We need to have a social media plan before we start posting."

"We have to have a name for our blog before we launch."

"We need to take one more class before we …"
I launched my podcast in March of 2017 under the name The Gear Show. I wasn't sure where it was headed. Over the next year, the interviews changed from gear-based conversations to story-based conversations. Eventually, I changed the name to Breaking Trail to shine the light on those who are blazing new paths, not following the status quo. I didn't let the idea of perfection and longevity stop me from putting my baby out. I knew time, like a flowing river, would polish it.
What have you been holding onto, worried about putting out into the world? (not a rhetorical question) – I genuinely want to know. Maybe I can inspire you off the ledge. Shoot me an email.
Take care out there,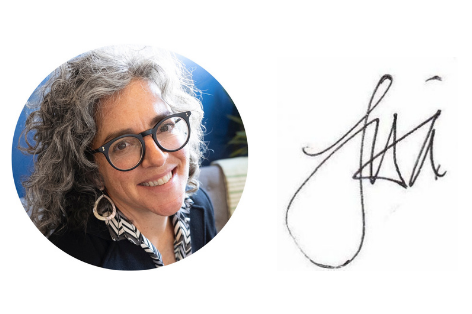 ---
Some ways I may be able to help you and your team:
Coaching for leaders who want to make the world a better place. I have two slots available in October for my Take a Big Leap Coaching program, a four month one-on-one program to help you articulate and make your idea of change happen. Contact me to learn more.
Creative problem-solving for non-profit teams. I bring outside perspective to your purpose-driven team to help you get people to care about something. Contact me to talk about facilitation or training for your team.
Digital Transformation. Need to bring your work online? I'm here to help. Contact me for details.
---
Stay in touch.
Sign up for our newsletter / podcast to get emails of great stories like this.
[ssba]