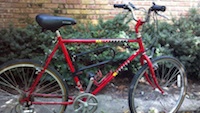 It's time for the Flash Friday Series! Each Friday, we share something personal: A personal goal, achievement or some way we find to achieve balance in our harried, busy professional lives.
If you have a story you'd like to share, please contact me here.
Today's post is written by Heidi Massey.
In 2009, I was happily living the suburban life. I had a new job, and kids who were on the cusp of adulthood.
My future as an empty nester had been looming in front of me for a long time but I had no real plans. I hated cold weather and was considering leaving Chicago once my twins graduated high school.
In April of that year, the nonprofit I worked for laid off large numbers of staff, including me.
Many people cried that day at work.
I saw it as an opportunity to begin a new adventure. During the next three years, I spent countless hours commuting into the city for events, meeting with people, and volunteering for nonprofit organizations. At the same time, I was getting heavily involved in social media, which introduced me to new people every week–people I would probably never have met had it not been for our online interactions.
I learned about people whose stories were completely different than mine and fell head over heals in love with diversity.
At the same time, our family had begun to reduce our carbon footprint. We built our first organic garden. I began purchasing organic food at the grocery store and became a regular at the local farmers market.
In the beginning, the changes weren't dramatic. I still drove my car just about everywhere. But my entry into city life, and social media, were slowly making an impact on me.
Over time, as I learned more about climate change, I felt a responsibility to do more. I decided to live a more planet-friendly lifestyle.
Now my empty nester plan was staring to take shape:
I wanted to get by without a car.
I wanted to decrease my expenses so I had some freedom of choice regarding my work life balance.
After so many years as a single mom, I wanted to decrease my load of responsibility in life.
It became abundantly clear I needed to sell my house, get rid of my car, move to the city, and rent an apartment.
On September 1st of this year, as an official empty nester, I moved into a two-bedroom apartment in Chicago.
Reducing my Carbon Footprint
Today, life is very different than it was just three years ago. I live in one of the 10 most diverse communities in the world. I bike and use public transportation to go everywhere and am so much happier this way.
Recently, I rented a car to visit family in Minneapolis. Before returning the car, I used it to run errands. Navigating traffic was stressful and frustrating. I couldn't help but think how much more joyful I am riding my bike. I was truly happier once I returned the car.
I have successfully biked four miles to a friend's house with a pie that remained intact.
I learned I can't carry two 25-pound bags of cat litter on my bike because I broke three spokes that day. I am also noticeably stronger than I used to be. I can tell because lifting my bike up the stairs onto a commuter train used to be a challenge and now it is a breeze.
Adapting to New Habits
Weather has become a much bigger deal because I am out in it more. But I have learned to appreciate how great it feels to bike in the cold, especially when I'm dressed for it. And I have learned what I need to wear when biking at 38 degrees vss  at 45 degrees.
When it's raining, I bike anyway and nothing really terrible happens. People ask me what I am going to do when it snows. (I think they are worried.) I guess I'll figure out that piece of the adventure when I get there.
If anyone had asked me just five years ago if I could see myself living in the city, carless, renting an apartment, and working with diverse populations, I would have replied, "Probably not."
However, I am pretty fearless about new experiences. I thrive in change. My friends and family have been extraordinarily supportive, which has made this metamorphosis so much easier.
Ultimately, it is about creating opportunities for joy, happiness, and growth in all the different parts of my life.
This new way of living allows me to feel good about myself, my choices, and my path. And isn't that what it is really all about?
Heidi Massey is a community builder who lives at the juncture of technology and nonprofits. She is the founder of Chicago Counts, an initiative that provides technology training for nonprofits. She is also an active volunteer with organizations fight poverty, and promote health and education. You can check out Heidi's blog here. You can follow her on Twitter @HeidiEKMassey.
[ssba]