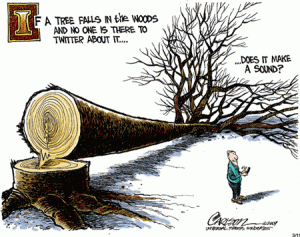 My friend Karol, a nutritionist, often threatens to write a book on "How to Lose Weight."
She said it will be one page. "Eat less and exercise more."
On that note, I could write a one-page book on SEO. "Write awesome content."
Over-simplification? On both counts, yes. But a very good start.
You still need to know things like what foods to avoid and which ones are better for you. How much exercise and where to start? What type of exercise is right for you
When it comes to SEO, what constitutes awesome content? How will it get found? How does it grow my bottom line?
I tell people I meet I'm an integrated communications professional and no one knows what that means. Not very good marketing coming from a marketing professional and I get that. I'm not yet sure what to do about that part other than to keep talking and explain I help clients get found mostly online, but we integrate traditional marketing where needed. In other words, we help our clients connect with audiences online to grow business.
We use communications to attract via blog and article content, engage via social network updates and sharing, and nurture via email content, and sell via optimized conversion funnels.
If our content isn't optimized to be found by the right people at the right time, that stuff is as good as the tree we saved by not using paper, that falls in the forest that no one hears.
As communication professionals, or content creators in your own business, we must understand the principles of SEO because producing great content alone is just the start.
Content marketing is the new SEO because the search engine algorithms are getting smarter and smarter. Google focuses on delivering relevant results to searchers. Keyword stuffed sites, backlinks from directories and other illegitimate link building techniques no longer work and to the contrary have actually penalized those sites who have engaged in that kind of practice.
The Very Basics of SEO
Produce great content that helps prospects and customers solve their problems and decide to buy from you.
Optimize that content for the target keyphrase and use something like the Yoast SEO for WordPress plugin to get your meta tags and descriptions right.
Make it share-able.
Get backlinks via social shares, guest posts and earned media.
Take your SEO to the next level with an SEO agency.
There is so much more to know when it comes to good SEO. I follow people like Andy Crestodina and Sean McGinnis who are both super smart when it comes to good, ethical SEO strategies that improve find-ability. There is a ton of technical stuff like the rel=author link, eliminating duplicate content with canonical links, and I could go on and on if I actually knew, but that's when I bring in the big guns to help with that stuff. Whatever we can do to help Google crawl and understand your content better, the better it is for you.
How to differentiate the good SEO from the bad. 
I spent some time with a prospective client last week and reviewed a proposal they had received from an SEO agency who will go un-named. Call me a naive Pollyanna but I was dismayed to see a line item in there for:
We will add 10 five-star reviews to your profiles per month.
We will build backlinks on online directories. (There were specific numbers but I don't remember.)
Not only that, but they filled the proposal with many redundancies and a great deal of technical stuff no one would understand.
That's the bad. I wanted to cry when I saw that part about the reviews. My husband, playing devil's advocate countered, "If that's what businesses have to do to compete, then why not?"
He has a point. Businesses feel that's what they have to do. But they will get caught. Maybe not immediately but eventually. Just like the sites who have been penalized for unethical SEO tactics in the past decade, the review site owners are working to figure this out, and you will get penalized.
And this is where I go back to just producing good content that gets shared, and linked to. Do really good work that naturally produces 10 five-star reviews per month. Ask your readers to share. Ask to guest blog. Ask for reviews. Take it to the next level by hiring some smart to help you or inform yourself.
And can do you have any questions? What did I leave out?
---
Download From Transactional to Transformational: Elevate your organization's positioning with effective storytelling.
[ssba]