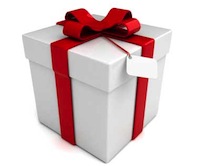 Is anyone reading today or are you all out shopping?
As I type this, I'm the passenger as we drive across Nevada on our way home from spending the holiday with good friends in Lake Tahoe.
We have our Verizon Mifi, USB jacks, podcasts, and all sorts of technology to keep the two-day road trip (each way) fun, productive, and interesting. And in case it gets boring, we also have the two dogs in the back.
I haven't blogged since Monday, and in light of the shopping theme today, I thought I'd share some of my recent gift idea finds.
This past year, I made a promise to myself to try and be a better gift giver. You know those people in your life – the ones who give you just the right gift (and sometimes for no reason at all)  – meanwhile, you find yourself wracking your brain for something to give to to them each year?
I've made big improvements this year, but I could still work on it. One thing I've done is created a notebook in Evernote called gift ideas. And I pay attention.
When talking to a friend or a relative, if I suddenly think of a great gift for them, I throw it in there immediately. That way, when the time comes to get them something, I already have the ideas.
You'll notice on this list a few national brands. Sometimes it's just not convenient for one reason or another, but I always strive to shop local and/or small when possible. So there are a few start-ups and owner-operated brands mentioned as well.
Who's on your list this year, and what are you going to get them? Let's crowdsource this list.
For the food lover.
Who doesn't love food? Kathleen Flinn, author of The Sharper Your Knife, The Less You Cry, blogged about Amazon's best food books of 2012. Some great ideas there for the chef in the family or simply the couch chef. I love food lit, and there are a few on the list I've not read.
For the photo buff.
Arik Hanson brought this to my attention. This isn't available for delivery yet but how cool to get your loved one or friend on the ground floor of the Projecteo project as a backer. It's a small pint-sized projector for Instagram photos. Just project on any blank wall, instead of passing your phone around.
For the personal touch.
Make your own books using Blurb for Instagram photos or iPhoto Print products. There are many ways to put this to good use. We're going to take some of our best, and most requested recipes and make our own cookbook for friends. I haven't started playing with Blurb yet, but the features seem to be endless, and I noticed an Adobe inDesign plugin which means the design capabilities are quite high-end.
Just want to send a quick treat to someone?
Treater connects to Facebook and has it's own app. I'm not in love with it yet, but I see it's potential with a few updates to remove the bugs and quirks. Nevertheless, it's a great way to quickly send a friend a latte from Starbucks, or a spa treatment, or bok of munchkins. Right now, the vendors are somewhat limited but if they keep it up, I see that expanding.
For the tech geek.
This isn't new. But I love it so much I'm using it again. (It was my submission last year for the Spin Sucks gift list.) A bluetooth keyboard case for iPad makes the typing much more friendly. It has a cool easel that holds your iPad up and can easily fold backwards when you don't want to use it. Love – especially for doing things like commenting on blogs.
For your daughters and nieces.
If you've been following me, you already know I can't stop talking about this. GoldieBlox is founded by Debbie Sterling, an engineer from Stamford who noticed she was the only female in her field. She is now building engineering toys for girls. This is so cool. They won't ship on time for the holidays, because they are still in start-up mode, but I'd be remiss in leaving this off the list, and I want to see it succeed.
For the young adult who loves to read.
I am buying this for my niece. It Never Happened: A Max Cole Story is the first in a series of adult fiction written by Jaclyn Aurore and this weekend, she is offering a Black Friday special; 40 percent off the digital download. Her books address the topic of awkwardness in young adults. I'm excited and proud for Jacki who has worked hard to self-publish this series and look forward to what she has in store for us.
So tell me, how was your Thanksgiving? What was the highlight? And…what would you add to this list and for whom?
[ssba]