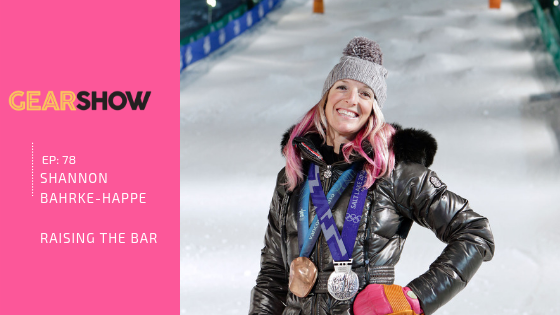 When you become the best in the entire world at something, what do you do next? How do you not let that be the high point in life, instead, keep raising the bar?
I had a wonderful talk with Shannon Bahrke-Happe today about that, about professional racing, and life afterward. Shannon was on the US Ski Team for 12 years. During that time, she brought home a silver and a bronze medal. She also won the Overall World Cup title in 2003, had seven World Cup victories, 26 World Cup podiums and her list of wins goes on from there. She is a mom, founder of Team Empower Hour and the author of a children's book Mommy Why Is Your Hair Pink?
We talked about having conviction in your goals and how that got her to the podium and medal wins. Great insights we can all take home with us as we pursue our own goals. A big lesson in today's show – sometimes you have to know when to fold them. The hard truth in walking away from dreams and resetting the course.
We'll learn what it's like to be a professional racer standing at the starting gate, and how she applied this to her business Team Empower Hour where she and her team bring these principles to the corporate environment through keynote speeches and custom experiences and workshops.
The message in her book Mommy Why is Your Hair Pink isn't just for kids – that pursuing your dreams and knowing that everything you need to success is deep within yourself.
With that, let's listen in and gear up for what's next.
Where to find Shannon:
How to Listen to Podcasts
There are a number of ways to access this (and other podcasts). You can listen directly from this page by clicking that orange play button above or the download link.
If you are on an iPhone, go to iTunes and subscribe. The Gear Show will add to your Apple Podcasts app which comes by default on your iPhone. Once you do that, you can browse around and add others to your podcasts:
On your Android phone, listen to it on Google Play, preinstalled on your phone:
Stitcher is another great app for listening to podcasts. Clicking below goes direct to The Gear Show but install the app and browse around for others:
Want to do me a huge favor?
Reviewing and sharing are the most helpful ways to get this in front of new listeners.
Make sure and get the next episode in your inbox – subscribe right up there, top right of this page.
If you enjoyed this podcast, I would LOVE it if you reviewed it here on iTunes! It makes a big difference!
I really want to hear from you – questions, topic and guest suggestions, anything. Talk to me in the comments below or here.
See you next week!
[ssba]