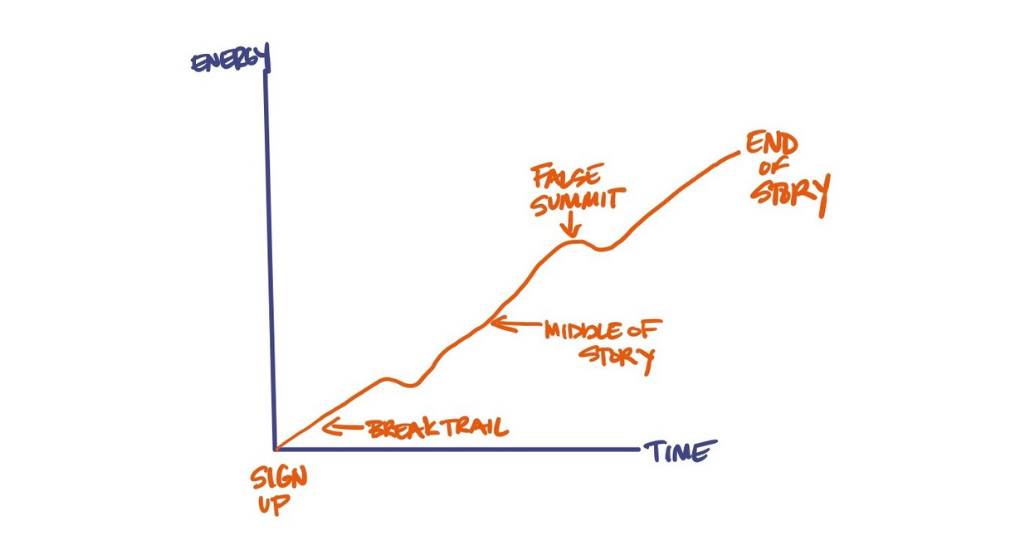 Last week I presented to a group of Solo PR professionals on the power of personal storytelling.
It was my first time presenting on this particular topic. I'm looking forward to exploring and working with it because bringing your personal story into the work you do (when appropriate*) helps you be true to who you are, attract who you want to attract, and therefore do what you want to do.
There's a journey one takes with any new initiative. At the start, it sounds fun and exciting, much like registering for a trail run or an event that pushes your limits. The idea part is the fun part; filling out the registration is easy enough. Then you start to work on it, or in the case of the race, you begin to train, and it's ok at first until it's not, and then it becomes hard work.
This happened to me the week before my presentation. The date seemed far enough off when I first said "YES" to the opportunity, and while I had given it a lot of thought and some good work beforehand the week prior, I came to the realization that it sucked.
This is a pattern in my workflow. But I usually don't notice that I'm in the cycle until after I am out of it. Maybe by writing about it, I can increase my awareness. Because the moment when I realize my work sucks is the moment I start thinking about excuses for canceling the thing I'm doing. But I only have so many family members I can declare have died before people start realizing what I'm up to, so instead, I sit down and do the hard work of making this thing suck less.
I am reminded of Dior and Halston just before their shows. I have mentioned in previous posts that my alternate Lisa went into fashion design and lives in Paris. Because we can only follow one path and not two simultaneously, I often check in with "Other" Lisa by way of fashion influencers on Instagram and documentaries on the fashion industry: Dior and I, September Issue, Halston (the new Netflix limited series).
Halston "signed up" to reinvent the American fashion industry. He knew he had it in him and that's what he set out to do. That's when the hard work kicks in, and he is faced with rejection and then self-doubt. He learns, retools, refines the designs until he has a successful collection.
So here I am, bent over my session outline, wringing my hands because it's not working for some reason, and when it doesn't work, the delivery doesn't work. Obviously. My upcoming session is far from a piece of art like an haute couture collection, but the characters in my alternate life inspire me nonetheless. What would Halston do? Or Raf Simons, Dior's artistic director?
They play with small adjustments. What if we moved the collar here? And tried this material instead? And what about this shape instead of that one?
I played with the context and how I set up my three key points. When I changed the context, it changed the way I transitioned from each point. I thought about it during my walks in the woods and returned to my desk to make small adjustments. Until it clicked into place. And I felt the conviction I needed to put my work out in the world.
That dip in the graph above doesn't mean your work sucks. It means "it's not there yet." That's a big difference in the story you tell yourself.
Small adjustments.
Are you working on something now that will benefit from this?
I'd love to hear about it.
---
Please join me at the Annual Nonprofit Statewide Conference, August 31 – September 2, 2021. I will be presenting Get Noticed, Remembered and Funded: Storytelling for Nonprofits and would love to see you there.
This year, it will include both virtual and in-person components. All aspects have great content to help the nonprofit sector grow. During the conference, all attendees will have the opportunity to fully participate in their chosen breakout sessions through microphone enabled live Q and As, polls, and text chat features.
---
Take care out there,

---
Some ways I may be able to help you and your team:
Want help seeing things differently? Ready to make that idea of yours happen? I still have a few spaces available in September for my Take a Big Leap Coaching program for purpose-driven individuals who want to make a big change or level up their career, business/organization, or want to strike out on their own and launch their thing. This four-month, one-on-one program will help you articulate and make your idea of change happen. Respond here, and we can schedule a time to discuss.
Help non-profit team members level up their storytelling. In this three-part series, I can work with your team to help you elevate your organization's communications and storytelling skills. Want more details? Respond here to schedule a time to talk.
Digital Transformation. Need to bring your work online? I'm here to help. Contact me for details.
---
Stay in touch.
Sign up for our newsletter / podcast to get emails of great stories like this.
[ssba]