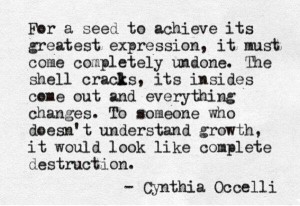 I'm not terribly big on memes and inspirational quotes but this quote, shared by my friend Amy O'Hara on Facebook, made me feel some forgiveness towards myself – perhaps all the recent chaos in my life isn't as bad as I think it is.
Lately, I've barely been able to show up prepared. You know that feeling – how ugly it all looks on the inside, like Oz behind the curtain, hoping like hell you're making it look easy on the outside? Arriving windblown and breathless at each deadline, trying like mad to bring your heart rate down and appear to be breathing normally?
Sometimes it's so bad, you don't even know where to begin to fix it; like a deer in headlights.
Inevitably, something in your life suffers.
Sometimes that something is unintentional which is unfortunate. Hopefully, it's intentional decision. "I can't get to this part of my life so I'll have to deal with it later." For me, the intentional release was right here. I had to let my blog go for a bit, which is too bad, because I love writing.
"Blog every week. Blog every day if you can. It's important to your audience and critical for SEO. Search engines want to see fresh new content and lots of it." And then my clients anxiously ask, "how many times per week? and how many words?" Meanwhile, I'm not walking my talk.
Sometimes stories escape us
Not that there aren't stories to tell, it's that we can't see them because perhaps, we are deep in the weeds and have become consumed by work. Perhaps your dog is seriously ill. Maybe your spouse is having a birthday and you are taking four entire days off to go skiing with him.
A lack of anything substantial to say trumps the need for SEO. Publishing garbage for the sake of meeting a deadline defeats the purpose. Keeping yourself up at night trying to come up with content, and overcome your guilt degrades relationships that are the the entire reason why you even do anything to begin with. Again. Defeating the purpose. If I lose my spouse, but damn look at how frequently I've been blogging, I'm seriously prioritizing ineffectively.
There is nothing wrong with not saying anything if you have nothing to say. In fact, your audience will thank you.
So I made the conscious decision to be OK with blogging less frequently, even though I enjoy it, to allow me to focus on the things that, frankly, mattered more in the recent few months. I got help and started delegating tasks, I focused on new clients, and I took a bucket list trip with my husband.
Recommended reading
If you share some of the same angst, I thought I'd share my recent reading list.
Ariana Huffington's Thrive: The Third Metric to Redefining Success and Creating a Life of Well-Being, Wisdom, and Wonder
Yvon Chouinard's Let My People Go Surfing: The Education of a Reluctant Businessman
Daniel Levitin's The Organized Mind: Thinking Straight in the Age of Information Overload (h/t to my friend Joe Hackman for this one)
As I look at the list, I particularly love each of the subheadlines.
There will always be dishes in the sink.
As The Paperboys sing it,
Some of the best days are when the map has been lost and the plans have been thrown away…

Cause there will always be dishes in the sink
Too much to do and too much to think about
There needs to be more time for you and me
C'mon and waste some time with me
I wrote this mostly to assuage my own guilt but perhaps as a reminder to us all to not be so hard on ourselves when our superhuman powers fail us. I'm going continue to be conscious about the things I can and will accomplish; and the things I just don't have time for and use my word "no."
[hs_action id="3253″] [ssba]