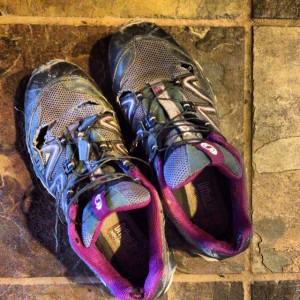 I replaced these running shoes in October. Reluctantly.
These shoes have taken me on the best running year of my life faithfully taking me up and down mountains and to finish lines in better time than ever before. They've carried me through the streets of Boston, Austin, Washington DC, and Phoenix; on the trails around Pikes Peak, Seattle, the sidewalks of suburban DC, Jackson Hole, Portland, and Palm Beach.
Through rain, mud, sand, and dirt….
In the end, they held on for dear life just to be able to stay on my feet. It seems a shame to unceremoniously relegate them to the trash.
A friend suggested I take the purple tags on the tongue and sew them into a favorite running hat. Another friend said I could send them in to be used to make new roadways – roadways we run on.
All this sentimentality made me think, at a time of year where we're focused on change, and plans and goals for the new year, and resolutions. Instead of out with the old and in with the new, how about weaving pieces of the old into the new?
My friend Bill visited this weekend – he's the guy you see on the slopes with duct tape on his gear. His house renovation is almost complete and he said he'll have a lot more space when it's done. "Kris will let keep all my skis. I can go up there and remember all the stories I've had with each of them. I dislocated my shoulder with these. I sprained my ankle on these."
Patagonia has gathered a ton of these kinds of stories and highlighted the best in their film Worn Wear: A Film About The Stories We Wear. Yes, a high end outdoor clothing retailer tells the story of treading and traveling lightly; of buying used clothes because it's kinder to the environment; which is why they create clothes that are meant to last.
At the opening, Founder and CEO Yvon Chouinard said, when he was 16 years old:
I had no idea what I wanted to do with my life. So I rode across the country to Wyoming… and I discovered mountains. I never wanted to be a businessman. All I wanted to do was do my craft and climb mountains. I had to figure out a way to where I was going to be a businessman but I was going to do it completely on my own terms."
Everything starts with quality for longevity.
The story of board shorts
A guy living off the grid on the beach in Mexico found a pair of Patagonia board shorts at a yard sale 15 years previously. He shows the original color on the inside and how much they've faded. The "ass end" had to eventually be replaced with a piece of recycled beach umbrella material, and the drawstring was replaced next. He estimates he had about 1200 user days in those shorts. Before he sent them back to Patagonia, because he felt they "deserved to have them back," he sewed a piece of the old shorts into his new shorts.
The story of a jacket.
Fifteen years. He could have gotten rid of his Patagonia jacket a long time ago but it tells a story every time he shakes the rain off or the sand out. He points to the blue paint stains from painting a bench years ago, or the duct tape from when it got snagged on barbed wire during a backcountry ski tour.
What do we want out of stories? To escape, to relate, to be inspired, educated, and entertained – some or all of the above. Patagonia accomplishes all of that and a few other things with this film.
They highlight their community. I love when brands find a good way to shine the light on members of their community – loyal customers. Patagonia uses Tumblr to collect and share the stories. A girl hiked nearly 10,000 miles with her Patagonia hat and she summed it up well: "We find kindred spirits through stories. The longer I keep a piece of gear, the more stories it accumulates and the more memories."
Stories do bring kindred spirits together. The whole film highlights the quality of Patagonia gear without selling it but by sharing a greater message that brings people together – one of sustainability that seemingly counters their own need for profitability. "Constant consumption is not sustainable so think twice before you throw that old ski jacket out. If you have to buy, buy used. The damage (to the earth) has already been done."
Most of all, I wanted to share all these stories because it's made me think of the approaching new year with a slightly different perspective. These stories are about more than "stuff." It's a way of life. Maybe I don't have to throw out old habits if I can find a way for them to serve me well. I do however, think I'll learn how to sew so I can make that cool hat with my shoe tags.
Here's the entire film for your inspiration. And I'd love to hear what you think in the comments.
[ssba]