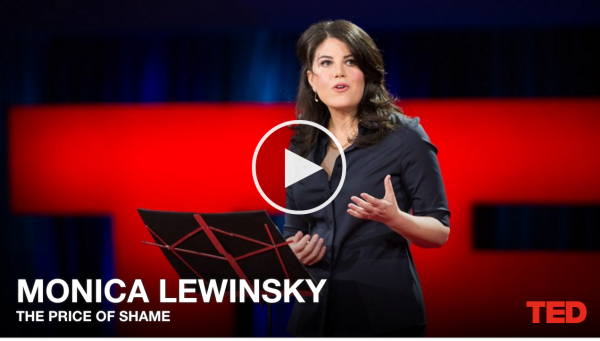 I came out from under a rock over the weekend and watched Monica Lewinsky's TED Talk The Price of Shame for the first time and my perception of her has completely changed. She was brave, she was honest and heartfelt, and smart. Have you seen it? (embedded below if answer is "no.")
Someone who was in her own words "branded a tramp, tart, bimbo, slut…" and the subject of countless jokes and late night skits had me in tears with a mix of empathy, awe and admiration.
Has anyone here made a mistake or done something they regretted at the age of 22?
I thought so, she continued. Me too. Only I fell in love with the wrong person. She went on to describe the public humiliation of falling in love with that wrong person (like any of us can and have) except for her, the embarrassing details were aired on the global media landscape. "Seen by many, but known by few," it was easy to make fun at the situation; to laugh at her; to be cruel.
I'll be speaking to a group in Reno next month on the topic of reputation management and I'll be opening with this story as a case study – not necessarily a model example, but an illustration of the ability to shape perception in our response or reaction to situations rather than let those situations define us.
On a daily basis, brands and small businesses are put to the test by justified and unjustified negative reviews/comments and attacks online, threatening their reputations. How to respond, whether or not to respond, and all the decisions that go along with it, are critical in helping businesses shape perception and take back the narrative.
Following are a few principles we can apply to brand reputation management.
Accept Responsibility
She takes accountability by admitting she made a mistake; one "she deeply regretted." There were not buts or excuses. There was zero blame.
Be Transparent and Heartfelt
It was a heartfelt talk that moved me to tears at times. Her mom wouldn't let her shower with the door closed because she feared what she might do. We learned so much more about this person when she shared her side of the story.
By being transparent and honest, we gain some insight that allows the audience to be more forgiving.
Take Action
The call to action in her TED Talk? To be a kinder, more sympathetic internet. Now Monica Lewinsky has become a voice for others who have been publicly shamed or cyber-bullied. How can we, as a brand, use what we've learned from this "incident" and take action to prevent it?
Taking Control of the Conversation
Why now? Her timing was right for her. Obviously, I would never counsel a client to wait 15 or 17 years to respond to a situation and I have no comment about the specifics here, but what I do know: She is speaking up now "because it's time to take back my narrative."
Negative feedback is nothing new. Social media has simply amplified it. The good thing is, it's allowed brands to be engaged in a conversation they previously might not have known was happening. Take this as a learning moment, accept responsibility, be honest and sincere, and take action. Use the situation to your advantage to take back YOUR own narrative.
---
Interested in elevating your organization's positioning with effective storytelling?
Download this ebook: From Transactional to Transformational
[ssba]