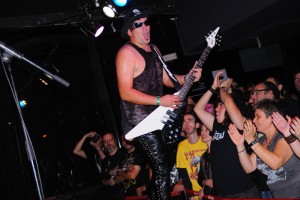 There are two kinds of people. There aren't really but for the context of this post, there are.
1: Those who you enjoy talking to so much, you lose your peripheral vision. In other words, you don't notice what else is going on the room. People move about, come in, and leave, but you are oblivious.
2: On the other hand, there are those who make you feel cornered. You're constantly watching out of the side of your eye for an escape. They are the reason you walk around looking ahead plotting out who you need to avoid. I live in a small town. When I'm at the grocery store, I'm like stealth, carefully looking out over the produce aisles, down individual aisles before I make my move in order to avoid the dreaded person of the
Boring Story
When it comes to brands and businesses and our marketing content, there is no difference. Stories are stories, and yet, I see so much boring marketing content out there, I have to wonder. But we can learn from the guy/girl at the party who captivates our attention. Brands are made up people who do business with people. Storytelling is storytelling. Why don't we approach our marketing communications as such?
You can be the marketer who captivates your audience, or the one who just fills home page real estate with garbage copy sending your masses scurrying like those in a bad horror flick.
Which would you prefer?
Let's go back to the fascinating person that sucks us in to his conversation. How does he do it and what makes a great story?
Good conflict resolution. Every good story has a beginning that makes us anticipate what will happen. And a conflict, and a resolution.
It's something we care about. In marketing, when you make your customer the protagonist of your story, you're speaking their language. When you're resolving their conflict, with your service or product, well, that's a damn good story, right? Everything we put out should run through the "why should anyone care?" filter.
They make us laugh or cry. Nothing is more therapeutic than a good laugh or cry. See Dove example below.
They are edited. In other words, each word or line whether spoken or written, is relevant to the protagonist finding a resolution to their problem. End of story. There is no wandering off topic…. "was it Wednesday? or Thursday? Wait, it might have been Tuesday…. " Oh for god's sakes I don't care what day it was, just tell me the story!
How The Brain Reacts To Stories
The human brain is wired to seek survival. When we were living in caves, survival had a far different meaning that it does today in the age of the Internet. Let's just say now, we seek to overcome challenges and live a better, happier life.
Consumers have the opportunity to click on any number of articles, videos, and podcasts at every stage of their online experience. What makes them decide which one to pay attention to? It must have meaning to them. It must do one of the things in the list above. And they want to know immediately it will do one of those things, or they will move on. To the next distraction.
The Blue Jeans Bar Makes the Customer The Protagonist
I used to hate shopping for jeans until I discovered The Blue Jeans Bar in Chicago. Here is a great example of storytelling that extends beyond online content into customer experience.
For many, shopping for jeans is overwhelming and not fun. Consider their home page message: The Blue Jeans Bar + You = The Perfect Fit.
And they mean it. All their jeans are behind the bar. A consultant will talk to you about what you are looking for, set you up in a changing room, and bring you many jeans to try on. She'll tell you if the jeans are right OR wrong. (Yes, she says when they don't fit right!) They make it easy for you, find you the right, fabulous pair of jeans, and customers happily pay a premium for the excellent outcome – The Perfect Fit.
Don't make it about you
I don't want to hurt your feelings, but your customers don't care about your brand. They care about how your brand will help them or make them feel. The Perfect Fit. It's not for everyone. I know many people who don't want to deal with a salesperson in the store. But I know many who do. Blue Jeans Bar makes their customer (not everyone) the protagonist of the story, and solves their problem. The Perfect Fit.
Dove sells soap
But the story they tell is "You are more beautiful than you think." Studies show only four percent of women think they are beautiful. Dove conducted a social experiment asking people to describe themselves to a sketch artist who can't see them. Then, someone else comes in and describes that same person to the sketch artist.
Both sketches are compared side to side, and it's striking how critical women can be of themselves. The sketches created by the other person's description are far more beautiful. If you haven't seen it, please check it out. This story brought tears to my eyes. And it's relatable.
[youtube http://www.youtube.com/watch?v=XpaOjMXyJGk]
It's a moving series that more than likely touches the hearts of many women. Dove isn't selling soap; they are selling an idea of natural beauty and being kinder to yourself.
A "brand story" is far bigger than the "About" page and it's more interesting than how long you've been in business, how "leading" an authority you are, and how world-class your facilities are. Those are stories that lose you attention.
Tell a more interesting story to captivate and transform your audience – make it about them, resolve their conflict, and give them a good laugh or cry along the way.
I'd love to know what you think. Do you think you can tell a better story about your business?
[ssba]