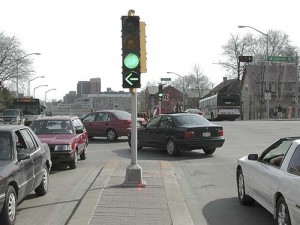 I left the auto parts store laughing and feeling happy, thinking, "that was fun."
And it all started because I needed a headlamp for my Subaru. (Subaru owners: Do you find yourself doing this often? My headlamps go out a LOT.)
Anyway, I was in town with a short list of errands and was mentally plotting out the order and where I'd go first. There are two auto parts stores – one on each side of the road. I planned out where I'd be coming from and would just go to the store that is on my side of the street. No need to turn left and cross traffic when I can go to the one on my right.
Auto parts are a commodity. I don't care which brand. I just want that which is most convenient and least expensive. I need a headlamp before I get a ticket, and I don't want to think about it after that.
I parked in front of the store leaving my dogs in the back of the car. As I entered, the man greeted me. I said "hi" and walked down the aisles looking for the lights.
Him: "Can I help you find something?"
Me: Yes! A headlamp for Subaru Outback 2002.
He looked it up and walked over to the aisle to get it for me while I was thinking oh good, now I don't have to look it up in that little book thingee and then find the right model number. This is awesome.
He pulled it for me (I bought two since I do own a Subaru). As he walked me to the cashier, he asked  if he could bring treats out to my dogs.
Sure!
As I paid, he did that and came back in laughing about the personalities of my dogs. Of course, you're talking about my babies so I was laughing too and I walked out of the auto parts store laughing and having fun.
You see? It can happen. You know what else can happen? As an auto parts store, you can actually tell a good enough story to get me to turn left to do business with you. Next time I need another headlamp which won't be long, trust me, I'm going to that store regardless of what direction I'm headed.
I didn't know going to the auto parts store could make me happy.
It's not about your product. It's how you make them feel.
You can make your buyers feel something enough to take that extra step and make that left-hand turn. What is it?
[ssba]