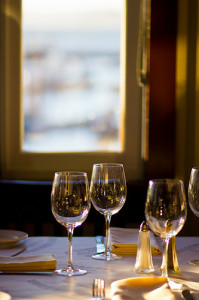 I started my "career" as a fine dining waiter. At the time, I thought I was being a slacker. I didn't know what I wanted to do with my life. Now, I look back on it as a very formative and productive time.
In fact, I  think everyone should spend time waiting tables. You want to get to know humanity? Stand between them and their next meal.
I learned a lot during that time. I'll pick these five lessons; all of which helped me prepared for a career in PR and communications.
Learn to maintain composure when it all hits the fan. 
Some of us were better at keeping our cool than others during the symphony rush when we have a full seating and all the guests have to be out the door by 6:30 pronto. I used to make fun of my co-worker – he'd walk so fast he was practically running back and forth through my station, inefficiently obviously, because of the multiple trips, giving my poor guests wind burn as he flew by.
Imagine spending $100 a head for dinner and your waiter is acting like Millie at the diner. Being a fine dining waiter teaches you to be efficient, to multi-task; and to keep it cool when you're about to lose it because you have entrees on the hot line, the chefs are screaming at you, but Susie at table 8 needs a slice of lemon for her water.
You will master the basics of reputation management.
Your ahi tuna was undercooked? I bite my tongue. "Of course. Let me take care of that for you." "Your soufflé is coming right out. I apologize for the delay. Can I treat you to a glass of Muscat while you wait?"
People get very upset and very impatient when their food is not prepared to their own wishes. We learn quickly to deal with any dissatisfaction quickly and flawlessly. Make it go away. Apologize, empathize, remove the offending item, and replace it.
You will grow a pair.
You won't last long in the restaurant business if you're sensitive. I'd get berated by cooks who think I'm a complete bimbo because I've asked for no sauce on the fish, please. As if I were standing out there at the table telling my guests how to order. "You should definitely get the sauce on the side. The cooks love when you do that."
Co-workers trade barbs and joke relentlessly. One night, my sister was visiting from the East Coast so I took her to dinner at the five diamond restaurant where I worked in Aspen. The back waiter set the cream of asparagus soup in front of me and I looked down and nearly spit out my $15 ($7.50 with employee discount!) sip of chardonnay. They had written Eff You with the creme fraîche squeeze bottle on the top of my soup rather than squiggling it decoratively like they would have for any of the full paying guests. Then there was the time our co-worker came in for dinner with a date and his waiter sprinkled pulverized mushrooms on their salad. I'm not talking the porcini or shiitake variety, either.
But it was all in good fun and it meant you were loved. A decade in the fine dining service and I grew a thick skin. Between the picky and discriminating guests, irate chefs with horrible tempers, and co-workers brandishing the $150 bottle of wine they just sold on their out to the floor, I learned not to take things personally. If I did, it would just ruin me.
You learn to read people and anticipate their needs. 
I don't care what business you are in. We are all in the service business one way or another. My compensation depended on my ability to read my guests and anticipate their needs. Some of my guests didn't want to be bothered and others wanted to engage in conversation. To this day, intrusive service is my pet peeve. "I'm in the middle of a conversation here, don't ask me if I want more water, just pour the damn water."
Joe Foodie wants to tell the chef how to prepare his meal (and I'll pay for it when I go back to the kitchen.) He knows what wine to order for the table. He might really know his stuff or he could be like the one guy who swirled his wine taste so hard it splashed all over his crisp white Brooks Brothers shirt.
Then there is the couple who is out on a big splurge. It's a special occasion and they could use some help walking through and understanding the menu. They feel embarrassed to say they don't know how to choose the wine. I'm happy to accommodate, and without judgement. unless your wine taste swirlie is overenthusiastic. In which case we might be laughing at you in the kitchen.
Bottom line, I quickly read my people and adjusted my behavior accordingly; knowing when to provide counsel when to keep quiet.
I started to dislike people towards the end. I won't lie. That's when I realized it was time for me to get out and get on with my "career."
Ten years of waiting tables in fine dining restaurants taught me to understand people, anticipate needs, adjust service to my audience, and toughen up for rough feedback. The lifestyle afforded me some great adventures, and the closest relationships in my life. I wouldn't change a thing.
One last thing: When your waiter asks you if you'd like something to drink, don't say, "no, I'll just have water." Water is a drink.
Photo Credit: ThomasSoerenes via Compfight cc
---
Download From Transactional to Transformational: Elevate your organization's positioning with effective storytelling.
[ssba]