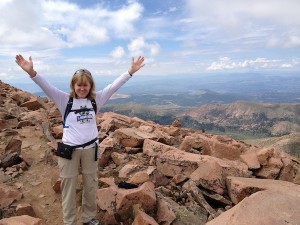 It's time for the Friday Big Leap. So happy to have my friend Marti Konstant share a big time of change. Marti is writing a book which I just realized she failed to mention here but you'll hear about that when the time draws near. She is a runner, and that's her on top of Pikes Peak last month, on top of the world, a fitting image to accompany her story.  
It was time to make a change.
The mobile software startup where I headed up global marketing for six years was acquired last year.
When I moved on eight months later, I left: the security of a lucrative executive salary, the status of a tech company marketing leader, and the mind-expanding travel to cities like Beijing, London, Paris, Sydney, Barcelona, and Berlin. Funded travel on the global stage is a gift, one that opens up minds and leads to international culture awareness.
But it was even harder to stay. The acquirer was not the right fit for my creativity and agile marketing brain. The new environment was stifling and unimaginative, with too many silos to count. Yep, my job of creating value and satisfying the investors was done.
But this is not my biggest leap.
Setbacks are the Path to a Significant Leap
There is a much bigger leap, in my distant past that called upon my persistence and survival instincts.
A series of losses preceded my big leap. It had been a tough year. In one year I lost my marriage, dreams of starting a family, and a place to live that I called home. It wasn't just that I misplaced these things.I had failed at something important to me.
That same year, my business partner and I decided to close our marketing communications firm of nine years. Although it was a thoughtful and intentional decision, it was not easy to say good-bye to our memories and to our staff.
There was no aha moment for the decision point. Clarity about what to do next came incrementally through research, soul-searching, conversations with friends and family, and discussions with mentors.
How to Make a Big Leap
Create a Game Plan
Being single allowed me to start fresh. The metaphor of a canvas just waiting for expressive gestures and color encouraged me to embrace risk, to have fun, and to see where it would lead. Open to serendipity, I was excited about creating something new. Following are the three things I changed to leap into a happier existence.
1. Redefine home.
I found a suburban apartment that I shared with a friend.
Home became a concept that I carried in my head; it was no longer a physical place. I streamlined and simplified my life by owning less and learned that life is not defined by things. A meaningful life is defined by our relationships. Personal growth happened by joining new groups, volunteering, and establishing new relationships.
Within one year, my home was a walk-up apartment in the City of Chicago. The pulse of the city inspired the consistent drumbeat of personal improvement.
2. Get a job that enables me to learn and travel.
Owning a business kept me busy at one physical location and limited my ability to travel. Did I mention that I love to travel? Getting a corporate job would provide benefits, training, and hopefully, journeys outside the Midwest. I also wanted to expand beyond my role of designer into relationship builder and business manager.
Confident in my abilities, it didn't take long. I landed a job with a Fortune 500 company that was in alignment with my creative background and business interests. It offered travel, a company car, and a whole new world perspective.
I nurtured a creative community, collaborated with world-renowned designers, learned how to present in front of groups, and launched thought-leader events. My role was the precursor to today's online community manager. I flourished in this environment.
3. Keep going when fire is in your belly.
I was on a roll. Confidence was building. The rule for when you are in this zone is to keep going. Psychologist Mihaly Csikszentmihalyi's calls this flow, a genuinely satisfying optimal experience that happens when people experience deep enjoyment, creativity, and a total involvement with life.
The last part of my big leap plan was to apply for one of the toughest business schools in the country to complete an MBA. Armed with a degree from a leading business school would give me street cred and help me develop the strategic and analytical thinking skills for the next stage of my life and career.
My business skills of marketing and design did not fit the profile of a typical University of Chicago Graduate Business School student, but I applied anyway. The day I received my acceptance, I jumped up and down, and called my parents with the news. As hard as school was going to be, I knew the most challenging part was behind me and that persistence and determination would get me through the years ahead.
Leaps embolden minds for achievement
This time period of my life influenced my vision for what a career and a life can be. A career is a series of incremental learning experiences that require dynamic adjustments. Just like life. Flexibility leads to higher levels of happiness and opens up life to serendipity.
If you've ever crossed a stream that required you to leap from rock to boulder to wobbling branch, it's essential to pause and get stable on each pivotal surface before making the next move. Some of the moves are lateral, and some of them require the stretch of a lifetime to prevent being sucked into the current of ice-cold water. That's the plan. Move forward, gain your stability and strength, and take the next step.
What's your Big Leap Plan?
Marti Konstant, CEO of Konstant Change, is a tech marketing veteran and growth hacker focused on kickstarting market demand for startups, small businesses, and B2B tech companies. She is also a dark chocolate lover, persistent optimist, and avid long distance runner. 
[ssba]