I was talking to a friend the other day – his sister left her husband after decades of marriage. They had different political views and had lived together peacefully for years, but recently, he had become so angry over the state of the world, he had become unbearable to be with.
He was getting his information from Fox News while she listened to NPR. He feared socialism. She feared fascism.
A sister and brother publicly argued on Facebook over each other's lack of education and inability to see things the way the other saw it. Friends jumped into the conversation like an NFL fumble pile, hurling insults onto the growing pile of cheap shots and mania where rules no longer apply. Each side, fervently rooted in their own belief of what is right, what is wrong, and what is true.
In "Untamed," Glennon Doyle describes a time in her life she struggled to decide whether or not to stay with her husband. She Googled "what should I do if my husband is a cheater but an amazing Dad?"
Her search results delivered two different kinds of stories. One: If she is a good parent she'd do whatever is best for the kids and stay with him. Two: If she was a strong feminist, she'd leave and stand up for herself. Again, everyone firmly held in their position, with truth being difficult to uncover.
Stories done well have the power to change the world for the better. My entire life's work is centered around that idea. But stories done well also have the power to tear families apart. Tear friendships apart. Tear this country apart.
For a story to work, we have to believe the story. In order to believe it, we must trust the Teller. Sometimes there is a breakdown in that sequence.
When stories are dangerous:
We trust the Teller so we believe all the stories.
We blindly believe the story without regard to trust in the Teller.
Each one of us goes about our lives with virtual reality-like goggles on. The programs we put into these goggles affect the stories we receive and how we see and experience our world. I don't know much about VR Gaming, but you might input a quest through the woods or a war with dragons. You might input your favorite religion or spiritual stories. Maybe you input NPR or Fox News. Then, there are the pre-installed programs – like your marginalized existence or your privileged existence.
These programs serve as the stories that shape what we believe and what we know to be true deep in our hearts. This helps to explain why, at the time of this writing, 73 million people fervently believe our country is on the right track right now while almost 79 million people fervently believe very much the opposite.
These stories shape why many of us are celebrating a new President while others decry the injustice of a stolen election.
Where does truth come into play in these two stories? We each have our idea of which story is true because we all have different programs queued up in our virtual reality goggles.
As the Receiver of the story, we have a responsibility. A responsibility to make sure we trust the Teller. And if we trust the Teller, to not accept the story for fact until we've used our best critical thinking skills.
Stories should come with a surgeon general warning. To avoid danger:
Blindly trusting the Teller and believing the content of this story can seriously impair your ability to be properly informed and can cause the spread of misinformation and fracturing of relationships.
As the Teller of stories, we have the ethical responsibility to lead, not mislead; to encourage a good game; not a fumble pile.
Take care out there,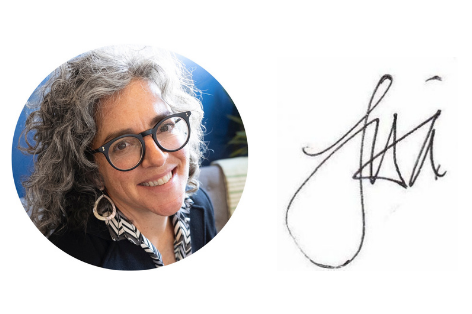 ---
Some ways I may be able to help you and your team:
Coaching for leaders who want to make the world a better place. I have two slots available in October for my Take a Big Leap Coaching program, a four month one-on-one program to help you articulate and make your idea of change happen. Contact me to learn more.
Creative problem-solving for non-profit teams. I bring outside perspective to your purpose-driven team to help you get people to care about something. Contact me to talk about facilitation or training for your team.
Digital Transformation. Need to bring your work online? I'm here to help. Contact me for details.
---
Stay in touch.
Sign up for our newsletter / podcast to get emails of great stories like this.
[ssba]