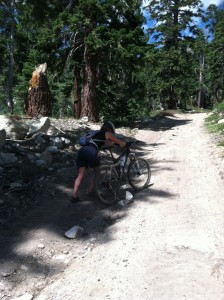 The people in my life are going to stop talking to me because they find themselves on my blog the next day.
That's my friend Jennifer in the photo. Whenever I go out mountain biking with her, we usually detour from the plan. She always has a better way. "If we go this way…," it will take us to some cool single track or on a better route.
Often, we end up lost, weed whacking (the trail might fizzle out) or hiking our bikes (as pictured) or using our head lamps to find our way home. But sometimes, we find epic new single track and it's a ton of fun.
For example, my friend Suzanne texted me this photo with the caption "Eight miles in, hot, lost, and hike-a-bike."
We actually love the adventure, even though we give her a hard time, and if it doesn't find us great single track, at least we have a good story to share.
I was reminded of that story as I was writing this post. On three different occasions in the past week, I've spoken to three different entrepreneurs, at varying stages in their career, at different ages, and with completely different businesses. All three are launching something new after a period of transition.
One is scared about an upcoming project they are about to embark upon. The second is taking a very conservative approach moving forward having been bitten in their past venture. The third wondered how one knows if they are on the right path towards achieving goals when there really is no road map.
Ahhhh the joys of the entrepreneurial path. What a fun and exciting time.
What all three friends are going through is completely natural, of course. We all recognized that.
One, you should be scared, right? If you're not scared, you won't pay enough attention, you might not care enough, and you'll screw up. Two, some ideas work and others don't. We learn from each experience and do better on the next one.
But the third is the one I wanted to talk about today. And I'd like to do something different and open it up to you guys. (Well, it's always open to you, but this time we mean it because instead of giving answers, I'm going to throw it out to you to answer.
My friend was curious to hear from my readers here; creative professionals and entrepreneurs:
How do you know if you're headed in the right direction when one day you might feel like a rock star – You just landed the new client. Your latest blog post is getting tons of raves, you were invited to speak at a conference…. your spouse sends you flowers. You are on TOP of the world.
And you wake up the next morning to learn your big client wants to put that project on hold. Another client is pushing back on some ideas you sent. You have no interesting email. You are a loser. (I dramatize.) It's a house of cards and it's all being threatened.
Are you on the path? Did you take a detour? Are you finding epic single track or are you weed whacking? Don't go away! This is not a rhetorical question. Please leave your thoughts below. Thanks!
[ssba]