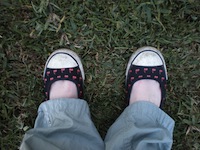 Today is my first day back as the owner of Big Leap Creative and I am rather giddy with excitement.
I've left this blog highly neglected during my time as chief content officer at Spin Sucks and I make no apologies for it. That was a great adventure; and one where I learned a ton.
As my very close friend Adora advised back in 2010 when I made the decision to pick up and move to Chicago for a year:
"Even if things don't go as planned, it will, at a minimum open new doors."
And she couldn't be more right. The skills, the lessons, and my new friends and colleagues all bring a lot of opportunity to my business.
I started BLC in 2004, mostly out of necessity, because I left my ski resort job and didn't have other job opportunities in the community. I wasn't about to leave Sandpoint because I love it here, and I was with my boyfriend at the time, who has since become my husband.
I always knew BLC wasn't done which is why I never did away with the website. But now, I am re-launching out of love and passion; not necessity. And I know this is a better reason.
What's Next
I'm going to take some downtime in October to create the vision and the plan for the reinvented Big Leap Creative; and to focus on business development. (<— Um, yeah. That.)
We'll be traveling back east to visit family, and I'll be writing away, running, and mountain biking. I'll have more time to work on my husband's winery marketing which I've badly neglected.
Most importantly, I'm going to stop looking at the grass on the other side thinking its greener. It's either the glasses I'm wearing, or the angle at which I'm looking at, because, dammit, the grass that I'm standing on looks pretty darn green to me!
While I'm working on that vision, I'll also be thinking about this blog which will be on its beautiful new site in one month. Just what the world needs  – another digital marketing blog, so I'll be finding a way to contribute my unique voice in the space.
It might have to do with running up and down mountains to find clarity and balance in life. It might be about owning and growing a business. It will most definitely be about marketing using the latest technology.
But also? It might grapple with being an ambitious person who struggles to conquer anxiety on a regular basis. Things aren't always what they appear to be and as I chat offline with friends and colleagues, I begin to realize I'm not alone here. I'll be the first to admit there has been more than one Monday morning where I've watched my Facebook feed with a sinking feeling thinking I'm the only one who isn't ready to "take on Monday with a fierce roar."
I'd like to pledge to share the good and the bad of being in business and trying to find that emerald grass even if it means I have to put on my green lenses to make it so.
And one last thing! If you're in the Inland Northwest, I'll be speaking on Friday on using technology to shape marketing strategy. The details are here, and I hope to see you there.
Thanks to Jarrah's Jungle for the photo.
[ssba]