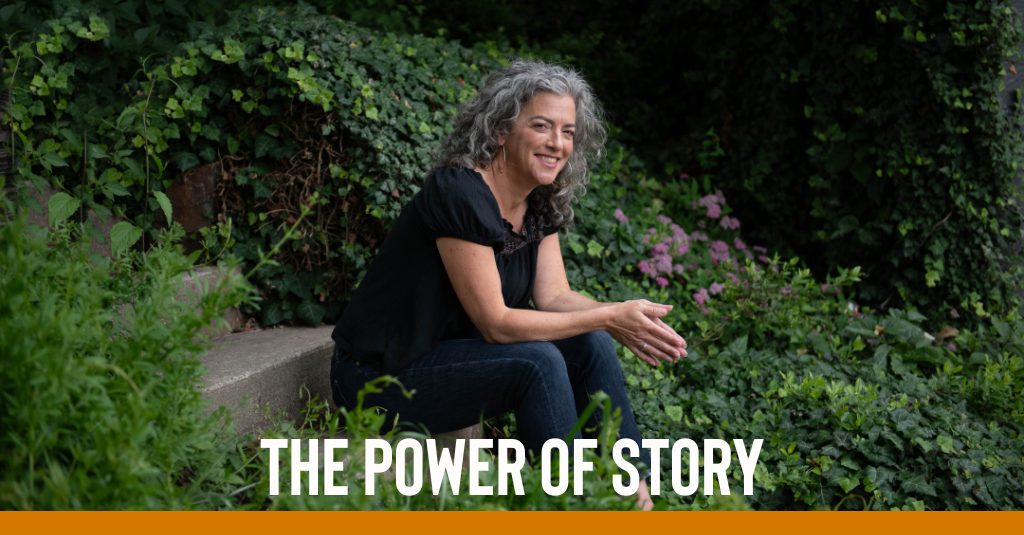 When I was a kid and on vacation with my aunt, we found ourselves at the bathroom sink brushing our teeth at the same time. Facing each other, our brushing rhythm began to merge, and she garbled through her toothbrush, "Hey! We're brushing in sync!"
And I then garbled, "Yeah! Cool! Now let's spit in sync!"
And we looked at each other and laughed for 15 minutes. We were (and are) the funniest people we know.
That brushing in sync happened naturally, without effort, over a short time, and it's called physical entrainment.
There's something similar called neural entrainment – when the brain waves get in sync with other brains, and it happens when hearing the same sounds; also called neural coupling. Uri Hasson and his team at Princeton University* discovered that this commonly happens between the teller and a listener or many listeners of a good story. When everyone involved is engaged, understanding, and interested, neural coupling occurs in the brain waves.
It's a narrative sync! Let's tell stories 'n sync!
Literally, it's creating a connection between humans, and this matters because, in his book Social, Matthew Lieberman said, "A growing body of research shows that the need to connect socially with others is as basic as our need for food, water, and shelter."
Love and belonging are on Maslow's hierarchy of needs, but based on this, we might need to move it lower in the pyramid!
The point, if you wonder why stories are so powerful, it's not just anecdotal; biologically, we are wired to connect, and stories are a big part of it.
Facts and data help to inform, but stories connect and change minds.
Stories can be so powerful you can't unhear them.
And maybe you'll think of that each time you brush your teeth and spit in sync!
*Source: Uri Hasson: This is your brain on communication, Ted Talk, February 2016, https://www.ted.com/talks/uri_hasson_this_is_your_brain_on_communication?language=en
Take care out there.

---
SOME WAYS I MAY BE ABLE TO HELP YOU AND YOUR TEAM:
LEAD YOUR WAY: This mentoring/coaching program is designed to help you step into your leadership and show up as your best self so you can communicate to connect and amplify your impact.
COMMUNICATE TO CONNECT: In my storytelling workshops, I teach leaders of all capabilities how to engage authentically with their teams, community, and stakeholders to create meaningful connections that build trust, increase team engagement and lead to better fundraising and revenue generation.
Did you have something else in mind? Let's talk and see how I might be able to help. Contact me and we'll schedule a chat.
---
Stay in touch.
Sign up for our newsletter and receive a digital version of my book From So What? To So Funded! for free.
[ssba]