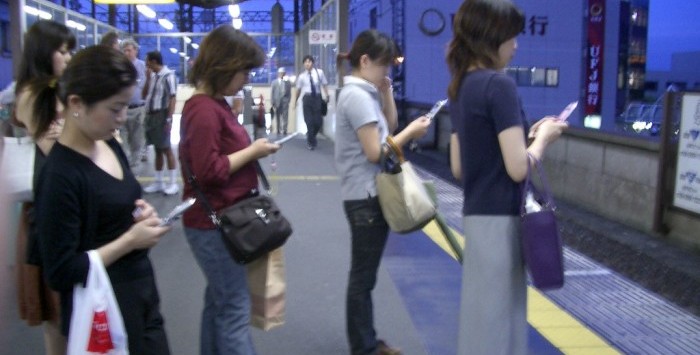 "What is the difference between TripAdvisor and Foursquare, and where should I focus my attention?"
This is a question I get frequently from small business owners. You know I'm about to answer this question with the word "depends," don't you?
The real question is, are you, a small business owner taking advantage of the local and mobile marketing sites available to you?
Before you start hating me for giving you more work to do, this is easier than it sounds, and it really shouldn't take that much of your time once you complete your profiles. More importantly, I can pretty much guarantee it is critical to being found especially if you rely on foot traffic.
In other words, you can't afford to not spend the time to manage this process.
Mobile Marketing
Mobile marketing means you're reaching your audience who is on the street corner with their smartphone, trying to find the nearest cup of coffee, glass of wine, outdoor seating, 24-hour dry cleaners, <fill in your business keywords here.>
Have you done that to your own business? Grab a phone, drive down the street a mile or just do it inside your own location. Do a number of searches.
Start with Google. Search for the solution you provide; not your business name. Use the terms your prospect might use.
Does your own site come up in the search? (It might not on the first page and that's OK) What sites do and are you listed on those sites? What does it look like? Do you have reviews?
Now, check Yelp, TripAdvisor, Foursquare, UrbanSpoon, and Google Places individually. See what's happening here – who's writing about you and what they are saying. This is going to help you determine where you want to focus your time. Either way, you're going to want to claim all your pages, for all these sites. Upload photos and fill in the descriptions completely.
Now you'll be notified any time someone writes a review. This will allow you to respond publicly to reviews, and it will also provide great customer feedback for your team internally.
You may have heard a lot of controversy around Yelp reviews. Rumor has it (along with pending lawsuits) that Yelp suppresses positive reviews if you aren't a paying advertiser. Some businesses pay reviewers to write positive reviews. (Please, don't ever do this.) Just do a good job running your business and encourage your customers to review you either by asking them personally, or following up with an email campaign and a link to the place you're trying to accrue reviews.
All of this controversy doesn't matter to you right now, however. The fact of the matter is, millions upon millions of people are using these sites to make purchase decisions every day. If they see a review like this one (the middle):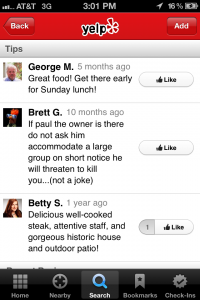 It gives you an opportunity to you know; and to respond. Maybe Paul was having a really bad day that day. You can apologize, and acknowledge.
TripAdvisor vs. Foursquare
Alright, so let's tackle the question at hand. As I forewarned, it's going to depend on your business and your target audience.
As far as claiming your page and setting it up with images and full description, it's "both."
As far as where to spend your time marketing yourself, it depends on what you discovered during your research experiment at the beginning of this post.
Go where your target audience is already hanging out. TripAdvisor is important for tourist related stuff. Foursquare will get you the locals, if it's used in your area. Where I live, I'm the mayor of everything on Foursquare. That's because it gets very little use. In the cities, it is getting more usage. Each site offers business page analytics to keep you informed on your traffic.
Yelp and Google Places
The question you should be asking yourself is about these two sites. Yelp and Google Places are for much more broader audiences. They will both help with your search engine optimization, and their audience isn't as focused as TripAdvisor and Foursquare. I can't think of any single business that shouldn't have a Yelp and a Google Places page claimed.
Remember, your customers are going to talk about you whether you are there or not. Claiming your page doesn't open you up to negative comments – you're vulnerable to them no matter what. So go ahead and face it with courage.
Like these guys did: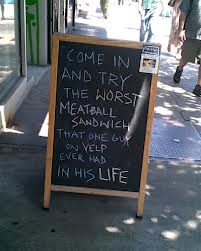 Don't ever take yourself too seriously. It will hurt you more than help.
One last thing. I didn't get into your mobile friendly website here but I'd be remiss if I didn't at least mention it. How does your site look on a smartphone? There are many ways to make your site mobile-friendly. My most preferred is the responsive design you get with Genesis, a WordPress child theme. I'll have to write a follow-up post on other ways to make your site mobile-friendly.
But please – look at your Google Analytics. Check out what percentage of your visits are coming from a mobile device and make sure you are offering them the experience they deserve.
So, did I answer your question? Did I create many more questions for you? I'm happy to answer here in the comments.


[ssba]