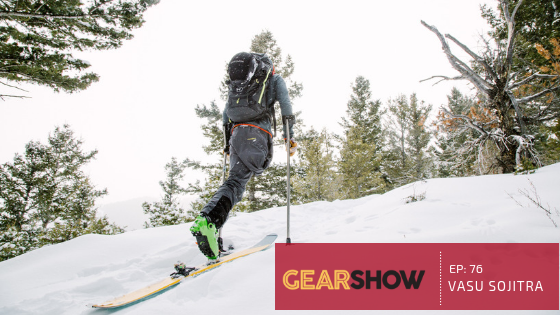 It's hard enough being a kid trying to fit in. Imagine being a brown kid with one leg growing up in an affluent and very white Connecticut town. Vasu Sojitra was diagnosed with septicemia at the age of nine months which resulted in the amputation of one of his legs. He spent much of his youth finding his way in the world. In fact, His TedX Bozeman Talk is titled "What is Your Normal?"
Now, Vasu is the Adaptive Sports Director for Eagle Mount Bozeman, Coordinator for Earthtone Outsideᴹᵀ, the first adaptive Athlete for The North Face.
Vasu shared with me how he managed and what got him through those years. He shared with us how he started skiing, what skiing did for him and how he figured out how to engineer equipment to get him out in the backcountry. And now, now that skiing and the outdoors has restored his self-confidence and belief he can do anything, he's advocating for all marginalized identities. He talks to us about how we can all be better, more empathetic and inclusive. All of us, no matter how we identify, can be ignorant of how our words, actions (and lack of both) affect others.
For example, there is one word Vasu said people with disabilities absolutely hate. And you'll have to listen in to find out what it is.
With that, let's listen in and gear up for what's next.
Where to find Vasu:
Resources Mentioned:
How to Listen to Podcasts
There are a number of ways to access this (and other podcasts). You can listen directly from this page by clicking that orange play button above or the download link.
If you are on an iPhone, go to iTunes and subscribe. The Gear Show will add to your Apple Podcasts app which comes by default on your iPhone. Once you do that, you can browse around and add others to your podcasts:
On your Android phone, listen to it on Google Play, preinstalled on your phone:
Stitcher is another great app for listening to podcasts. Clicking below goes direct to The Gear Show but install the app and browse around for others:
Want to do me a huge favor?
Reviewing and sharing are the most helpful ways to get this in front of new listeners.
Make sure and get the next episode in your inbox – subscribe right up there, top right of this page.
If you enjoyed this podcast, I would LOVE it if you reviewed it here on iTunes! It makes a big difference!
I really want to hear from you – questions, topic and guest suggestions, anything. Talk to me in the comments below or here.
See you next week!
[ssba]