In the weeks before Dan Harris, ABC news anchor published his memoir, he panicked that the details in the book could ruin his career. Now, this is somewhat ironic because the book is about meditation.
"I went into a tailspin. I was frantic, desperate. I couldn't eat. I couldn't sleep. No amount of meditation would help. My mind was racing with escape plans.

… I was now genuinely contemplating trashing four years of work; I was on the cusp of calling my publishers and pulling the plug on the whole endeavor."

Dan Harris, How Writing a Book About Meditation Threw My Own Advice Right Back in My Face
I wonder why it is we feel compelled to put forth this idea of perfection when our audiences appreciate knowing and seeing our flaws. Why can't we reconcile that and be OK with being vulnerable?
Brene Brown said, "What makes you vulnerable makes you beautiful."
Just like pottery that has been repaired using the Kintsugi technique. Instead of repairing broken pottery to camouflage the cracks, to the contrary, the pieces are rejoined with a tree sap lacquer containing silver or gold powder. This highlights the cracks. In drawing attention to the flaws, the piece of pottery often appears even more beautiful.
In his book, Ten Percent Happier, Dan Harris detailed stories of his recreational drug use, competitive nature with colleagues, and the deep anxiety he experienced. He used these stories as a case for meditating and to explain why he eventually launched the Ten Percent Happier app.
Maybe that's why his book was such a huge hit (#2 on the New York Times Bestseller List) and his meditation app so successful. He was brought on as co-founder because his appeal was so broad (skeptical people who think meditating is corny and requires incense). His story is based on an on-air panic attack which set him on a path to find a way to calm his mind. In revealing these things, he not only helps us to know him but more importantly we trust him.
Good leaders make emotional connections when they build trust. Vulnerability is one key to building and earning that trust.
This restaurant doesn't shy away from the fact that someone doesn't like their meatball sandwich: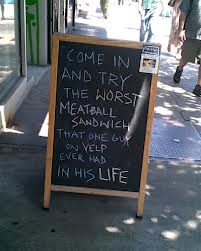 I don't think people wish you ill, but I do know that when you show yourself as imperfect, it makes them feel a bit better about themselves. It makes them feel better about YOU. You're just like one of us.
I can do business with that.
Here are some ways I can help you overcome some of your marketing challenges by telling a better your story:
---
Interested in elevating your organization's positioning with effective storytelling?
Download this ebook: From Transactional to Transformational
[ssba]