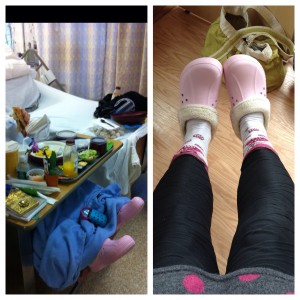 I inherited my Gramma Jean's pink crocs last month. They're big shoes to fill but I intend to serve her well.
I actually never think about my legacy but today, my Grandmother would have turned 90 and I've been thinking a lot about hers and subsequently my own.
As I sat through her funeral service, a few things ran through my head:
1. Man, I  hope everyone has as much fun at my funeral (my Aunt Heidi said "We do shrimp and champagne for Mother's funeral, not eggs and Manischewitz*), and
2. Wow! I'd like to be remembered in similar ways.
The Rabbi's opening went like this:
Rare is the Octogenarian who can be eulogized and remembered for being a Deadhead. Rarer still is the soul who lived life so fully, so openly, so comfortably that she allowed herself to become a fan of the Grateful Dead and experience the trappings of life not just of her own generation but of other generations as well.

Jean Gerber was that rare breed who accomplished all of these things and more. Jean's thirst for life was unquenchable, her passion unbounded, her willingness to live and explore and enjoy unbridled.
Not a bad life re-cap if I may say so. And every word of it is true.
I sat there in the second row thinking long and hard about all the words everyone shared and felt like a part of her lives on in me (as I'm sure others in the family felt as well.)
One of the best ways we can honor someone is by carrying forth in their shoes and here is my pledge:
Always be up for adventure.
Gramma Jean was always game. I can't remember a time she let fear or worry hold her back even in the little things from getting her hair beaded in the British Virgin Islands, to smoking pot with us when we were in college, to riding the chairlift up to the summit of Schweitzer Mountain in her 80s.
I learned saying yes to adventure opens up doors and experiences to living life fully.
Withhold judgement; instead, be curious.
She loved hanging out with people of all generations. When we visited her in Palm Beach, she would sometimes complain about all the "old people" so we'd hop in her Le Baron convertible and head to the beach. She didn't judge the music or the trends  – she wanted to know all about it. What's cool? Who's this band on the radio? While many generations have a hard time accepting others', her curiosity kept her open-minded and  young at heart.
It helps me to be more accepting of those who aren't like me.
Don't hate.
I hated chocolate growing up and Gramma Jean didn't like it either so we always we had this special bond. But I'd say, "No thanks, I hate chocolate." and she'd correct me: "I choose not to eat chocolate."
There's no need to hate.
Always be elegante.
(Pronounced elegantay, of course.) We all wore flowers in our hair at the ceremony because Gramma Jean always believed in looking elegante no matter what. She always had her jewelry and bracelets up to her elbows and flowers in her hair.
Condiment containers were never allowed on the table but ALWAYS served in small dishes. Orange juice was always fresh-squeezed and served in stemware, of course.
Sure, I might get caught in the grocery store with long underwear for leggings, but I always try to look the part. When I had the entry level concierge position years ago and I was vying for the marketing manager job, I dressed for that marketing job (and I got it!).
Everything is WONderful.
(Pronounced with a long emphasis on WUNNNNderful.) Life wasn't always easy for my Grandmother; not by a long shot. She lost her husband at a relatively young age and she had trouble with her vision to name just a few things.
Maybe it's because I was her Granddaughter but I never saw her sad or upset. Everything was always WUNderful. She called me Lisa Berber and signed my cards with WOW! Happy Birthday, I love you. Don't forget.
This reminds me of Kamal Ravikant's book, Love Yourself As If Your Life Depends on It. (check out the Srinivas Rao's interview with him.) If you create a loop, it begins to form a groove. If you keep saying everything is WUNderful,  it really is wunderful.
How do you wish to be remembered?
*The Meal of Condolence at Jewish funerals would serve eggs. And of course, the wine would be Kosher. But Gramma Jean didn't care too much for convention. 
[ssba]