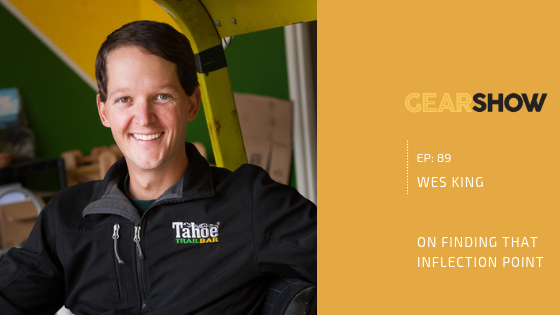 Wes King is the CEO and founder of the Tahoe Trail Bar, a plant-based, non-GMO, gluten-free line of awesome tasting energy bars. He had so much to share, I decide to make this into a two-part episode so I didn't have to make any hard decisions and leave good stuff on the proverbial "floor." Today, in part 1, we're going to talk about finding purpose, working your ass off and taking a cottage business to the next level. Next week, we'll talk about his leadership philosophy, mindfulness and giving back to the community. I was truly inspired by our conversation and have lists of my own ideas I was jotting down as he spoke. I think you'll find the same.
More on Wes: Tahoe Trail Bar started in a coffee shop in South Lake Tahoe CA in 2010. Today, under his leadership, they have achieved distribution throughout the western US. One of his greatest achievements to date is pursuing the active balance between a laser focus on key growth outcomes and the deep enjoyment of the process of working in the business alongside his employees. Outside of leading the Tahoe Trail Bar, Wes prioritizes taking in a steady diet of continuing education, meditation, learning from mentors and other entrepreneurs, and investing his time as a mentor to other startups in his business community. Whenever he can, you will find him backcountry skiing on Mount Rose, mountain biking on the Tahoe Rim Trail, or backpacking with his wife and 2 children in Desolation Wilderness.
Also – there is a deal – You want 20% off your next order of trail bars? The code is in the podcast. Missed it? hit me up and I'll let you know. 🙂
With that, let's listen in and gear up for what's next:
or
Where to find Wes:
Want to do me a huge favor?
Reviewing and sharing are the most helpful ways to get this in front of new listeners.
Make sure and get the next episode in your inbox – subscribe right up there, top right of this page.
If you enjoyed this podcast, I would LOVE it if you reviewed it here on iTunes! It makes a big difference!
I really want to hear from you – questions, topic and guest suggestions, anything. Talk to me in the comments below or here.
See you next week!
[ssba]