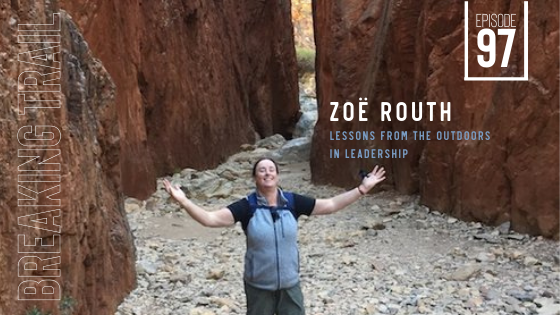 I'm always fascinated by the paths we take, and how a decision here or there leads to the next thing and then on to the next thing. Of course, extra bonus points for marrying two separate passions into one successful career, and a path of happiness. Zoë Routh is UK-born, Canadian-raised and Australian resident who is a highly successful leadership expert specializing in the people stuff. She shows leaders and teams struggling with office politics and silos, how to work better together. She's worked with individuals and teams internationally and in Australia since 1987 from the wild rivers of Northern Ontario to the remote regions of Australia. Zoë has spent the last 30 years, showing teams how to navigate the wilderness of people stuff. Her past leadership roles include Training Director at Outward Bound Australia, Chair of the Outdoor Council of Australia, President of the Chamber of Women in Business, and Program Manager at the Australian World Leadership Foundation.
This month, her fourth book, The People Stuff – beyond personalities and advanced handbook for leadership won the 2020 Australian Business Book of the Year from Smart WFM Australian Book Awards. She also has a podcast called The Leadership Podcast. She's outdoor adventurous, Telemark skier, has run six marathons, survived cancer, and loves hiking in the high country. Today, we talked about how she escaped Pluto. Kidding. Only sort of, and made it to where she is today. We talked about how she translates lessons from the wilderness into being the best leader you can be.
And with that, here is our conversation.
OR
Where to find Zoë and other links:
Want to do me a huge favor?
Reviewing and sharing are the most helpful ways to get this in front of new listeners.
Make sure and get the next episode in your inbox – subscribe right up there, top right of this page.
If you enjoyed this podcast, I would LOVE it if you reviewed it here on iTunes! It makes a big difference!
I really want to hear from you – questions, topic and guest suggestions, anything. Talk to me in the comments below or here.
---
Stay in touch.
Sign up for our newsletter / podcast to get emails of great stories like this.
[ssba]