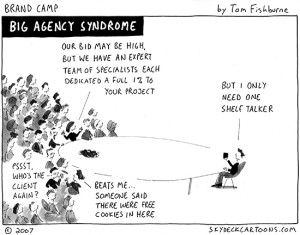 When I originally founded Big Leap in 2004, the plan was to grow an agency, get acquired, and retire to a countryside home in the South of France. No big deal, right?
At the time, that's what success meant to me; building a team, something bigger than I.
I've learned a lot about myself and about business in the nine years since I first hung out my shingle. During that time, I've added staff and laid off staff. I was offered (and accepted) a job to be chief content officer of Spin Sucks so I closed my business for two years and joined a small team.
Now, I'm six months into Chapter Two of Big Leap and success has once again redefined itself: I am just perfectly happy building a team of 1.
I've discarded the notion that to be successful, I have to grow and add employees. For each of us, success is different.
Let's dissect the facts . 
Agency vs. Consultancy Life
I work and live on my own terms.
During ski season, I might not schedule meetings for early in the morning if it looks like it will be a powder day. I'll skip out of my office to go skate skiing, or trail running midway through the day. It's what fuels that creative fire and keeps me centered. I don't have that kind of freedom if I have a staff or a team to answer to. <– I ended in preposition even though I said I wouldn't.
I get to build a business I truly believe in. I am working with clients who align with my values. I don't have to feel pressured about taking on a piece of business I otherwise wouldn't because I am worried about making payroll. If I were an employee at an agency, I might get handed a piece of business in which I have no interest. Imagine being the client in that situation!
I don't have to babysit.
I am making a rash generalization here that agency owners babysit their staff. Good hiring prevents this but doesn't change the fact that office dynamics happen. And everyone turns to you, the leader, when they need a referee. Some of you enjoy this part of it, and therefore, having an agency is for you. I prefer to show up at the office, do my work, and throw my headphones on and head out the door when the garbage hits the fan. That an agency leader does not make. We need to recognize these qualities in ourselves. I know mine!
I have access to the same success as agency leaders.
I couldn't possibly make as much money if I don't have a full agency, right? Wrong. I have a good friend who has been a principle/owner in two agencies and is now a consultant again.  He told me he is making 20 percent less now, as a consultant, than he did when he was a partner in an agency. That's a small price to pay to work for yourself. But if we're being honest, he could easily capture that 20 percent if he wanted to.
The key for consultants is to create products and price properly, outsource when needed, and run a serious business.
But I want to build something!
I might not be building a physical entity, but I have the opportunity to do great work and live a full life I can be proud of. I have the distinct honor of making an impact on businesses I work with, readers of this blog, and audiences to whom I speak. Who says that's not building something?
I might not have a business entity to sell at the end, but that's not necessarily a guarantee if I'm building an agency either. I have to stick to what's true to my heart.
Being a consultant certainly has it's pitfalls.
No scenario is perfect. As consultants, we have to overcome the perception that we don't have the manpower to meet complex needs. I have a virtual team  – the best of the best – whom I pull in for large-scale projects. Most consultants do. From the client perpective, I'd argue you are getting the best service at a far more efficient price because our collective overhead is lower than the big agencies. But there are a lot of fantastic agencies out there as well. It just depends – there is no "one is better than the other" answer.
Redefining success. Every Day.
When I was in high school headed to college, success meant I'd become an international corporate lawyer – a perfect way to pair my love for France, into something that would make me a lot of money. Then I spent my junior year in Paris studying at Sciences Po, and in the cafés and parks, and I was ruined forever.
That's when the thought of becoming a lawyer was not at all the picture of success to me. I needed more freedom.
A master in the art of living draws no sharp distinction between his work and his play; his labor and his leisure; his mind and his body; his education and his recreation. He hardly knows which is which. He simply pursues his vision of excellence through whatever he is doing, and leaves others to determine whether he is working or playing. To himself, he always appears to be doing both. – Either L.P. Jacks or François René Châteaubriand
Success means a Monday to-do list I'm excited about, writing here on this blog, writing my book on Big Leaps, occasionally speaking at cool places around the country (I'll be in DC later this June!), and exercising my option to come into work an hour late on a powder day.
I spend a great deal of time redefining success, and I'm OK with that. And I know my country home in the South of France is out there awaiting my arrival. I'll still get there.
What does success look like to you?
[ssba]