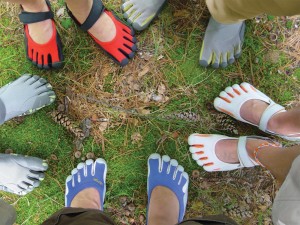 Imagine you're the founder of a major sporting shoes manufacturer and a national bestselling book has just started a running revolution; one that touts the benefits of running without said expensive running shoes.
Not only that, but the book calls your brand out by name and blames you for things like running injuries and deaths by degenerative heart disease.
That's what happened to Nike in Born To Run by Christopher McDougall.
If you haven't read the book, it's been credited with igniting the barefoot running revolution. In other words, it might be thanks to this book we see those really ugly (sorry, they just aren't attractive) Five Fingers shoes.
As I read Chapter 25, I couldn't help but wonder what I'd do if Nike were my client.
Here are a few nuggets:
There's no evidence at all that running shoes are any help at all in injury prevention. … Dr. Richards was so stunned that a twenty-billion-dollar industry seemed to be based on nothing but empty promises and wishful thinking.

Runners wearing top-of-the line shoes are 123 percent more likely to get injured.
Old shoes are better than new ones, so you don't have to buy as frequently as shoe manufacturers recommend.
Humans are designed to run without shoes.
Here is where Mr. McDougall specifically calls out Nike for the transgressions:
A lot of foot and knee injuries that are currently plaguing us are caused by people running with shoes that actually make our feet weak, cause us to over-pronate, give us knee problems. Until 1972, when the modern athletic shoe was invented by Nike, people ran in very thin-soled shoes, had strong feet, and had much lower incidence of knee injuries.

If running shoes never existed..more people would be running. If more people ran, fewer would be dying of degenerative heart disease, sudden cardiac arrest, hypertension. blocked arteries, diabetes, and most other deadly ailments of the Western world.

That's a staggering amount of guilt to lay at Nike's feet. but the most staggering part? Nike already knew it.
The book was published in 2009 and has slowly been gaining popularity over the past two years.
I decided to dig in and see what Nike might have done in response.
From what I gathered, their reaction appears to be limited to the release of the Nike Free series. They may or may not have funded studies that debunk the theory that running barefoot is better for you. Although I discovered references that large manufacturers funded the studies, it didn't name the brands specifically.
Three Thoughts to Consider if Your Brand Gets Slammed
There is a bigger question here I'd like to address. Your brand is likely to be challenged in one way or another and the longer you are around, the more likely it is to occur. Advances in technology, changes in economics, and evolving market conditions will affect you.
Have you thought about longevity in your brand or are you living day to day? Have you considered how you'll stay relevant and adapt when these things happen?
Easier said than done, because we can't predict this stuff, and unless you are the manufacturer of a crystal ball that actually works, you can't plan for every possible occurrence.
If your brand gets slammed in a similar fashion to Nike, there is no cookie-cutter way to respond. I can't give you a five-step process; it all just depends. But there are some questions you can ask, and here is what I would have advised Nike had they been my client:
Decide how important it is to respond. This is a tricky one. If the issue is likely to go largely undetected, there is no need to plan a large-scale response that will only draw more attention to it. In the case of this bestselling book, let's assume the argument isn't going to go away. No need to launch a PR campaign attacking the book or the theories in it. You don't want to appear defensive or angry. A smart and calculated approach will be necessary.
Modify product offering accordingly. Hop on the bandwagon and adjust your thinking. Every single business will face a challenge to its relevancy. Those who adapt quickly will survive. We've determined the issue is only gaining in recognition and people are subscribing to the theory. What now? How can you modify your product line to stay relevant? Boom – Nike adds the Nike Free series.  It doesn't do away with it's other products. This barefoot running craze isn't for everyone.
Share knowledge. Take the lead in helping people make the transition if they want to. No need to take a position on it. Consumers are confused now. They thought Nike shoes were designed to help them become better runners. Maintain that trust by telling them what they need to know and what shoes are right for what type of runner. Those running on cushioned shoes with arch support can't just start running barefoot. What products do you have that will helps make that transition? Who better than Nike to lead that charge?
It would take a lot to topple a Goliath like Nike, but complacency would be enormously misplaced in this situation and possibly in yours as well. I'm not advocating a knee-jerk reaction; but it's important to keep an eye on these things. I call this one a creeper. The book has been out for years, but it continues to grow in popularity and more and more are subscribing to it's philosophy.
Are you keeping an eye out for threats to your brand?
At Big Leap, we specialize in solving digital marketing problems.
If you need help telling your story, managing your reputation or building relationships, we might be just what you need:

Thanks to Vibram Five Fingers Reviews for the image. 9QQK9CZFGTNU
[ssba]