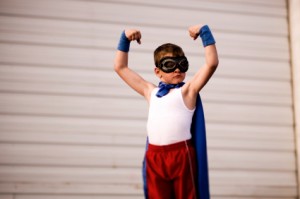 It was January 2010 and the world awaited in anticipation for Apple's upcoming announcement of a revolutionary product. It's a multimedia tablet! You can play games! Check email! Read books! Watch video, TV, and movies!
Wait. What? It's called an iPad?
Apple was hammered for its choice of name. Women thought it was outrageous and Apple had become a laughingstock.
I watched with anticipation wondering what Apple would do about this backlash. I empathized with their communications team. What a nightmare, I thought. Fantastic product but everyone was laughing at the name.
I'll tell you what they did: They went on to sell iPads by the tens of millions, hundreds of millions. Three years later, Q3 of 2013, they sold 14.6 million. Only. Down from last year, when they sold 17 million units.
Do you remember the fiasco with the name? Barely, I'm sure. Have you thought about the name recently? Apple never bothered or worried about it. And three years later, it's so ingrained in our society,  the once awkward name is no longer part of the conversation.
It takes a brand with confidence to know when to withstand backlash, knowing it will blow over rather than grow and spread.
JC Penney didn't back down when One Million Moms launched a campaign against them for hiring openly gay spokeswoman Ellen Degeneres. In fact, they responded with a Father's Day ad showing a same sex couple.
The customer isn't always right.
Even Steve Jobs said the customer doesn't always know what they want.
Consumers can be bullies; holding more power than ever thanks to technology. The people who care or have the time to speak up can seemingly make a lot of waves. So it seems like a revolution; but it's simply a vocal minority. Don't forget about all the people out there who have so much more to do with their lives than complain about your ugly new logo on twitter.
Because of this, brands without confidence dilute their message. They are afraid to take a stand for something they believe in because they want to please the crowd.
In an interview on Fresh Air (NPR), Jon Hamm described what it was like to audition for the role of Don Draper. He had to exude confidence even though he wasn't feeling it himself. "We all have to manufacture confidence, because that sells." (Good advice for all us)
Meanwhile, the people you are not hearing from? They are far too busy spending money buying your products and services because it serves their needs well.
Of course, brand confidence should be based on good customer knowledge.
How are your customers making purchase decisions in your product segment?
What matters to them most, truly? Find out if you don't know.
Have a clear idea of your company values and ensure they align with all employees, stakeholders, and vendors.
Who is your customer and who isn't? And are you OK losing X segment by standing for Y?
Create your product strategy and stick to it. Be all right with the fact you won't be a fit for everyone but by focusing on your right audience, you build something stronger, more emotional, and far more loyal than ever. Of course, this assumes you didn't do anything outright offensive or wrong, in which case you should understand how to respond to negative reviews and by all means, apologize.
But sometimes, just sometimes, your customers really do make decisions based on the integrity of your brand and how your product satisfies their needs; not by how you made everyone happy by backtracking and changing what you called it, or firing the person you paid to talk about it.
This is a slightly modified version of a post that originally ran on the Vocus blog. 
[ssba]