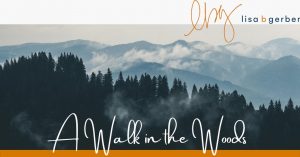 A Walk in the Woods
Join me in my walk in the woods videos, where I talk about how leaders can use the power of Storytelling for impact, helping uncover the stories that move their audiences. I've been told I have a knack for taking complex topics and making them simple but engaging.
If not at my desk, you might find me out on the trail with my dogs and husband, out skiing or trail running. It's where I do my best creative problem-solving. So, sit back and enjoy the great outdoors, taking these walks in the woods with me. Let's learn how to use the power of storytelling and effective communication to influence action and bring ideas to life.
Let's change the world one story at a time.
Watch and subscribe on my YouTube Channel.
I invite you to take another walk in the woods with me and Murphy.
Today, I'm thinking about using story to remove the transactional nature and to get what you want.
When doing video interviews, one of the biggest challenges is getting a good story when the person you are interviewing isn't great at telling a story.