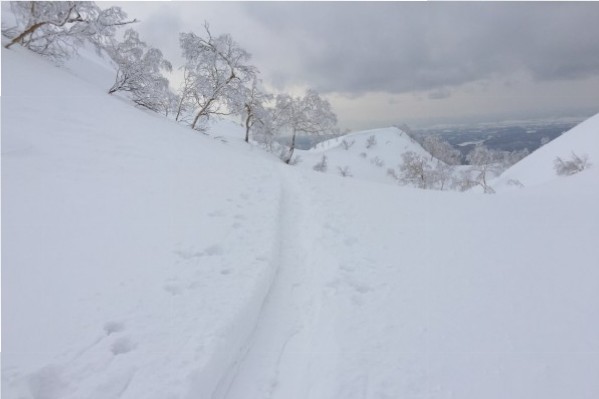 Pictured above is a ski trail that leaves the main run and goes somewhere presumably awesome. Someone made it so they must have known what they were doing and clearly others followed. So it must be worth taking, right?
And so, we followed in anticipation of untracked powder and a discovered gem. Instead, what happened, after a few untracked powder turns, we dead ended at a river at the bottom of a ravine with no way out. Luckily we had climbing skins in our packs and climbed back out and back up to the main run. 
As skiers, it's understood when you go where others have gone without knowing the outcome there is risk involved. 
Much like doing business with a brand that claims to be the "leading" provider of XX, or to have served six million burgers. Consumers are taking a risk following a trail others have taken without having a full understanding of the outcome. And it works for many brands. Six million, even billion burgers! That's good – they must be awesome, right? 
The problem is, these types of claims don't differentiate and they aren't specific enough to get the attention of your audience. They are pretty much meaningless. No one cares about the six millionth burger. Trust me.
The best brand stories eliminate the mystery and give the happy ending at the very beginning. They don't leave your buyers wondering if they'll dead end at a creek or have to huck big air to get over it.
What is the experience? The benefit? What specifically changes for buyers?
Here are a few examples with their messages:
If you're Weber Grills, they are going to "make a better steak."
If you're our healthcare technology client, they are going to "shift to an evidence-based practice." 
With Kayak, their "travel problem (will be) solved."
Too often, brands consider themselves the "hero" of their brand story and when they do that, they end up talking about themselves. "We have been in business for 25 years, leading the industry in, award-winning …."
Instead, when the hero becomes the buyer, the messaging changes entirely and we speak to the buyer's happy ending. Think about it for a minute. No one really wants to buy a new grill, or software to collect data. They want the outcome – to make a better steak; to use data to make evidence-based decisions.
Back that message up with testimonials and case studies positioned around how these buyers overcame their problems with your product or service and you have removed the brand -centricity from your content.
Awards and industry leadership lend validity and credibility but when they become the brand identity, it's equivalent to sending your buyers to a creek without a paddle, or a bridge.
[ssba]