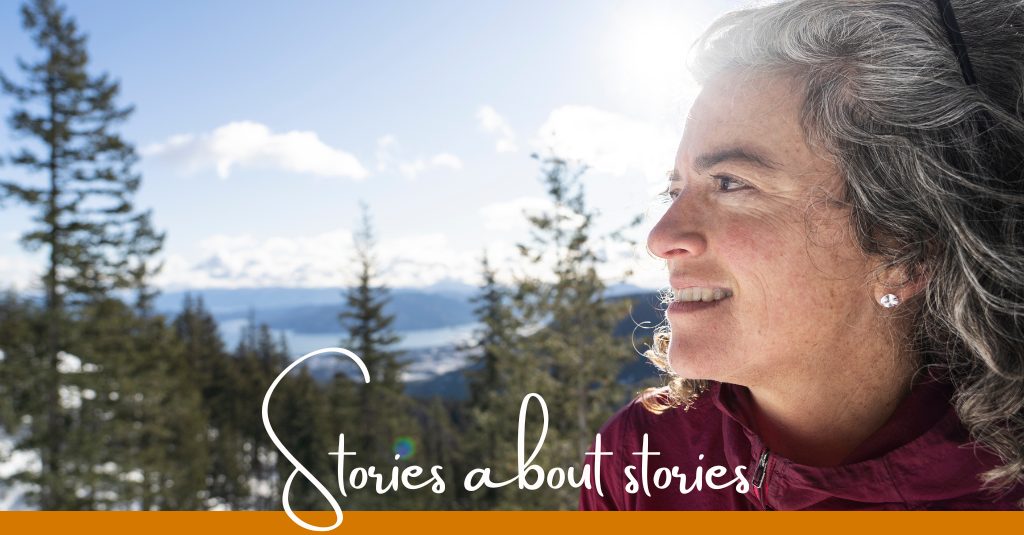 I wanted to invite you to my March Storytelling Strategies webcast this Wednesday, March 15th at 10 am Pacific. I'll share a few ways to connect with your audience through storytelling (as the title suggests 🙂 ) You can learn more about that here and register to attend for free. Also, a big welcome to those of you joining from the Idaho Nonprofit Regional Conference! If you are wondering, this webcast is similar to my Table Talk but a little longer. 
Now, on to today's topic – Much of my work centers around helping people step into their leadership, showing up as themselves (I'm intentionally not using the term "authentic selves" here), and living on their terms, but this past weekend I learned a valuable lesson about not stepping into your leadership. And yes, it involves skiing again! But bear with me even if you don't ski. 🙂 because there's also a lesson about doing things you love.
I have a podcast called Breaking Trail and a coaching program called Take a Big Leap, all of which encourage these things.
And: Sometimes, stepping back from leadership is a good idea.
Last weekend, I skied my mountain with a friend I don't usually ski with. I have been skiing this mountain for 21 years and know it well, and I tend to have favorite runs and routines for specific conditions. Sunny days, powder days, low visibility days, I pride myself in having the right itineraries for a couple of hours, a half day, and a full day.
When skiing with someone new, I'm tempted to take charge and make suggestions based on those experiences and preferences. Last weekend with this friend, I relaxed into not leading and learned something or two. I discovered new lines (How could I still ski new places after 21 years?) and validated other choices. Net result: I elevated my knowledge of something I knew well.
You may or may not be a skier, but there is a good lesson here about the importance of taking time now and then to step out of your leadership and let someone else take the wheel. Great discoveries could await.
In her book Dare to Lead, Brené Brown invites you to have the courage to lead with vulnerability. I think it takes equal amounts of courage to know when not to lead, to step back, listen, and explore new ideas.
While I'm here writing about the things I love – skiing and leadership – I wanted to add that I made the difficult decision on Sunday to go backcountry skiing with a friend. It was difficult because I had a big day Monday to prepare for and felt like I should stay in for that. I decided to go with the justification that I would mentally practice my talk during the long slow, meditative climbs. It turns out we came across a group of skiers and chatted as we climbed together, sharing what we do for work and I made an important connection for potential future work with a leader of a conservation organization, both of us doing what we love making and finding people with whom we would enjoy working.
Take this as a reminder to do the things you love. You deserve it. And you will be rewarded. Wink.
Take care out there – and drop me a line if you have a question for me.

---
Some ways I may be able to help you and your team:
Need Guidance And Accountability? Take a big leap: I advise purpose-driven individuals who want to make a big change, level up their career, start a new chapter, or launch a thing. I still have a few spaces available in March for my Take a Big Leap Advisory program. Respond here, and we can schedule a time to discuss.
Help Non-Profit Team Members Level Up their Storytelling. In my storytelling workshops, teams learn how to more strategically find and tell stories that engage the communities they serve, increase funding and effect change.
Contact me for details.
---
Stay in touch.
Sign up for our newsletter and receive a digital version of my book From So What? To So Funded! for free.
[ssba]