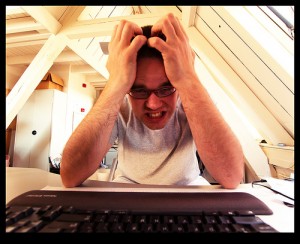 If you were to do a search for a video production company in the Bay Area on a search engine, your results would show video production companies that are good at SEO, not necessarily good at video production. It's frustrating. Good SEO often beats good business. Instead, it would make sense to turn to your network for a recommendation.
My financial planner this week directed me to a page on their website of planner picks for funds, savings accounts, and disability insurance explaining "we are in no way affiliated nor do we get a commission from these products. We just wanted to make it easier for our clients to find vetted products rather than pick from the first results in a Google search."
Tell me something: When you do a Google search, how often do you click to page two? How often do you even scroll down? I'd guess the majority of you choose from the top four or so organic search results.
This study by Chitika last year confirms it. Just under 35 percent of Google traffic goes to the first position on any given results page (compared to 18 percent to the second position). And 91.5 percent of all traffic stays on the first page.
Let's think about that. There are 10 organic spaces available on page 1 (and way more video production companies than that). Even if you're ranking fifth or sixth on the page for your product or service, you are getting 6 and 4 percent (respectively) of the traffic. If it's two million views, you might be doing great. If that's you, then fine. This article doesn't apply to you.
But the reality is, if you offer a common product and are in a metropolitan area, or not even location-based, you're not getting in the top 10 for your key phrase because brands that are bigger than yours with greater resources and who have been doing it for a lot longer than you are ranking.  In other words, those who are better at SEO are winning; not those who are better at your business.
And it's only getting more competitive every day as more and more content is produced. Today, almost 140,000 new websites, two million blog posts and 864,000 hours of video will be created. A day. At what point do we start to realize the competition for those 10 spots on page one of Google are becoming futile?
Search engine optimization (SEO) becomes search optimization. Google, Bing and the others are working hard to correct this, but it doesn't change the fact there will always be 10 coveted spots. As competition for rank becomes more difficult and your prospects are finding more trustworthy channels to make their purchase decisions, here are some ways to adjust your strategy accordingly.
Location is your friend.
Perform a search for your category and location (omitting location if you are not location-dependent). If you're lucky, location-based and user review sites are ranking at the top. which means you don't necessarily have to rank your own website. If you have a good presence on these directories, they will drive traffic to your site. For example, a restaurant in the Seattle will have a very difficult time ranking on page 1 unless they have a fabulous Yelp page and Google Places page. A managing partner in a law firm told me this week he is getting 80 percent of his new business from Yelp of all places.
Focus on long tail keywords.
Avinash Kaushik's strategy puts your audience into buckets: "See, think, do." "Do'ers are more likely to buy now and are performing searches specific to your brand and/or product. Your seers and thinkers are also a prime opportunity, but they do a different type of search. They research solutions and probably aren't aware of you or your product.
When my dog, Jackson had issues with hip dysplasia, I typed in a long tail keyword like "managing pain for canine hip dysplasia." A vet in a major metropolitan area that can't rank for "veterinarian Chicago" could rank for a long tail keyword such as this one. We ended up spending $4,000 with the animal hospital four hours away that had content out there to help solve this problem.
Understand the questions, pain points and concerns of your audience by creating content that will attract them. Yes, it takes a lot of work.
There is more to life than search engines.
It depends on your goals, of course, but consider that sometimes, the search engines are not the end-all be-all for getting found by your buyers. If you are very much in a relationship-based business, your buyers may come to you by way of referrals rather than cold leads on the Internet.
That's when you rely on things like:
Social. A social share of your content is in essence, a testimonial. If I'm a customer of yours, and I share something about you, (assuming it's positive), my network is far more likely to act on it than they would a cold search. Expanding your networks in concentric circles from your current buyers and thinkers is key. This is why your broadcast messages on your social outlets are falling on deaf ears but if you think about how to empower your best customers to want to share what you're giving them, you'll do better.
Bonus: Search results vary depending on the searchers' location, online preferences and behaviors, and their social graph. If someone shared your content in their networks, any of those people are far more likely to get that content in their search results because search engines see it as relevant to them.
Influencers, industry media and bloggers
Focus more energy on collaborating with them on content and meeting their needs so they talk about you could be far more powerful than your SEO efforts. The story I found to help Jackson was a result of the hospital's PR effort to get their success stories out in the news. When I saw someone with the similar problem solved, I couldn't get in the door fast enough. Media and blogger outreach with helpful stories is key.
User-generated review sites
As more and more niche user-generated review sites come into existence, your buyers are looking to recommendations instead of search engines. Think Zillow for the real estate profession, Yelp for locations, and Viewpoints for appliances. Yes, there are flaws in these. No scenario is perfect.
To be clear, I'm not advising you abandon your SEO efforts. You'll want to continue to optimize your pages, just manage your expectations accordingly. And think more strategically how you can get found beyond by way of more trustworthy channels that send you more qualified leads.
Photo Credit: Sybren A. Stüvel via Compfight cc
[ssba]