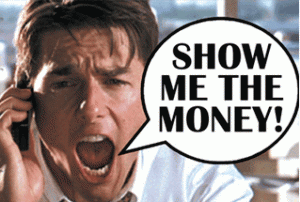 I know to some of you, this is a topic that has been beaten to death. But I get asked this question. A lot.
If you're in the digital marketing and social media space, you're more than likely not going to learn anything new here. But you might find a point or two you'd like to debate with me. Many of you, however are not, and you come here for your marketing knowledge. I will do my best to deliver.
A CEO in the real estate development sector asked me, "how do you measure the ROI of social media?" To that, I responded with the following.
It is possible to track return on social media investment but I typically broaden the question out to ROI on online efforts. The main reason for this is social media rarely directly contributes to sales (certainly in real estate purchases) but it does play an important role with things like brand awareness, and community and relationship (sales and customer service) building, so we want to track the role that plays in the bigger picture.
First and foremost, everyone must agree on the business goals. The entire program needs to be designed with goals and tracking mechanisms in place in order to do this. My job is to develop the strategy and determine the tactics needed to achieve the goals and how we'll measure each tactic.
We back out of the sales goals what it takes to get there – so, how much web traffic, how many Facebook fans, how many blog subscribers, how many phone calls does it take to get a lead list of X and convert X % of those leads to achieve the sales numbers? (We'll use historic data if available to make those projections.)
How To Measure Social Media:
The marketing tactics and metrics to track fall into four categories:
Increase brand awareness: This can be considered fluff or ego metrics because it is just measuring eyeballs. But we need eyeballs to get sales. Create content, engage in media and blogger relations, do Google ads, print ads with unique trackable URLs. We'll measure things like total web traffic and referring traffic (from social networks, blogs etc.), and size of social network base.
Generate engagement: Are those eyeballs interested in what you have to offer and are they sharing, commenting, asking questions? Use social networks to engage in the conversation, share created and earned content, answer questions, build relationships, ask questions. We measure engagement using a variety of tools like Google's social tracking and analytics from our CRM or monitoring platforms.
Generate leads: This is where we weed out the Lookie Lou's from the interested parties. We generate leads by getting return web visitors to sign up for an email newsletter, a free trial of a product, or make a phone call. We track how we are converting visitors to leads, on the online form or via trackable phone numbers.  We might track lead conversion as a percentage of traffic or in absolute numbers.
Convert leads to sales: Now we have a phone number and/or an email and we nurture the leads with email marketing (which we can measure and track). We go back and refine some of the tactics to improve conversion rate of leads. Using online tools such as Hubspot or Salesforce.com we can track how a customer originally found us, and assign any revenue back to those pieces.
It's important to integrate with all offline tactics – sales and marketing staff should be making notes in customer and prospect records throughout the sales process so a phone call that was generated from a post on Facebook can be appropriately recorded, for example.
We take the measure-able goals from each of these four categories and create a reporting spreadsheet that we send every Friday. If we're trying to hit an 8% conversion rate, you can see, the larger the community we build via brand awareness, engagement and lead generation, the better the conversion numbers.
I think this is pretty cool stuff. It means we have to dig into numbers and spreadsheets but it truly separates us from the agencies that don't show results.
So? What do you think? Questions? Additions? Corrections? I'd love to hear it.
Want to learn more about tracking and measuring marketing and PR?
I have a free ebook for you, A Simple Guide to Measuring Inbound Marketing:


[ssba]