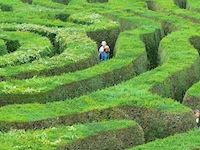 Let me ask you this: If your spouse were in a room full of your potential clients, and you weren't there, would he/she be able to accurately describe what you do?
Not just who you are but what you do? 
As it turns out, a lot of people don't know what a digital marketing strategist is or does. We think it's obvious because we are immersed in it, but it isn't.
At a reception the other night, I explained to a prospect that I help businesses develop their online strategy to grow business and he said, "Oh, so you could help us with our Facebook page?" and to another prospect over cocktails I tried a different route and he didn't quite get it.
Which started my gears turning.
As digital marketers, we tend to hang out in gangs and visit each others' blogs and whip each other up into a frenzy over a variety of things happening online that most "normal" people don't have a clue or a care about like a stray tweet from a disgruntled employee.
In many respects, this is good. It makes us smarter and better. But as I spend more time having these things called face-to-face meetings, I realize it's not clear what exactly we do. 
Two things learned here: 
Remember like-minded people and groups are fun, and we learn a lot from each other, but go outside that bubble every now and then if you want your thoughts to be challenged.
Stop using jargon and truly explain what you do.
and a bonus third item because I'm all about over-delivering: Train your spouse on your elevator pitch.
What is the Job of the Digital Marketing Strategist?
The 100 Percent Jargon-Free, Over-Simplified Guide to What a Digital Strategist Does
OK, here we go. I should be hit with a light electric shock if I use any buzzwords or industry jargon.
Regardless of your business, you have something to sell. Even if you're nonprofit, you are selling your cause to receive donations.
Your prospects may or may not have ever heard of you but they are going online in a wide variety of ways looking for solutions – solutions you have to offer them. They are using search engines, social networks, forums, user-generated review sites, location-based sites, and more.
Google calls it the Zero Moment of Truth: We help to get your business to conveniently appear in the buyer's path at the right time with the appropriate answers.
First thing's first: We determine your business goals. Then, we get an understanding of the needs of your prospects at various stages of their decision making process. What questions are they asking at the beginning, middle and end of the sales funnel?
Based on that information, we write the strategy and we outline the recommended activities to get us there. This might include things like (but not limited to):
Creating content:  A blog, or videos, or simply articles and charts on your website. By providing answers to your prospects' questions, the search engines will do a lot of the work for you, if we're creating the right content and optimizing it to be found.
Media/blogger outreach: Get story ideas out to media and bloggers so prospects can find you.
Email marketing: Gather email addresses from website visitors, existing customers, etc. and nurture relationships through email marketing.
Paid advertising: Perhaps it's Google AdWords (the sponsored listings you see at the top of Google search results.) or Facebook advertising, or sponsored posts.
Social networking: So the Facebook response above isn't completely off-base. We help determine your strategy on social networks, but it's one piece of the overall plan. You'll want to build relationships and handle reputation and customer service issues on the social networks. We'll help you with that.
Measure, refine and repeat: I wrote about the measuring your online marketing here.
And way more. This is obviously a super simplified version. We research and analyze, track and measure, and understand technology and how strategy determines the tools.
So? Did I do it? Does it make sense?
Interested in outsourcing your digital marketing strategy?
We can help. Learn more here.



[ssba]