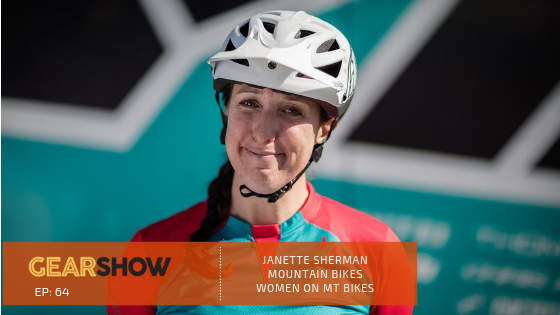 I wanted to have Janette on the show because she has come up in conversation about three previous episodes, all by guests mentioning Janette as a huge influence on them. For example, that's Ash Bocast of Roam Events in the teaser quote at the top of the episode. Before even talking to her, it was clear she subscribes to the idea of women supporting each other and lifting each other up. Although we look at this through the lens of the mountain bike industry, it's a great metaphor for life in general.
Janette is the marketing manager for Yeti Cycles, a high-end boutique mountain bike brand. She has served as a mentor in the industry and is what a self-proclaimed semi-nerd, kind of in the vein of our recent show with Brendan Leonard of Semi-Rad, we will only slightly nerd out on bikes. Last year, we did a whole episode exloring if a better bike will make you a better rider and you better bet your ass it will. Janette is going to tell us how bike geometry and technology has evolved to make us better riders. I'd equate it to the advent of shape skis. 

We talk about:
The culture and positioning at Yeti Cycles
Janette's own career path – and how she, like so many other Gear Show guests, has made choices based on fulfillment and happiness rather than money.
Bike geometry and technology – the evolution in the past decade
Bikes and how to choose the one for you.
With that, let's listen in and gear up for what's next!
How to Listen to Podcasts
There are a number of ways to access this (and other podcasts). You can listen directly from this page by clicking that orange play button above or the download link.
If you are on an iPhone, go to iTunes and subscribe. It will be added to your Apple Podcasts app which comes by default on your iPhone. Once you do that, you can browse around and add others to your podcasts:
On your Android phone, listen to it on Google Play, preinstalled on your phone:
Stitcher is another great app for listening to podcasts. Clicking below goes direct to The Gear Show but install the app and browse around for others: Lastly, I wanted to share with you a new app for finding and listening to podcasts – it's called Radio Public. You can easily import your podcast list from your current app, explore new ones from curated lists, create your own playlist and share playlists with others. Find The Gear Show on Radio Public.
Want to do me a huge favor?
Reviewing and sharing are the most helpful ways to get this in front of new listeners.
Make sure and get the next episode in your inbox – subscribe right up there, top right of this page.
If you enjoyed this podcast, I would LOVE it if you reviewed it here on iTunes! It makes a big difference!
I really want to hear from you – questions, topic and guest suggestions, anything. Talk to me in the comments below or here.
See you next week!
[ssba]