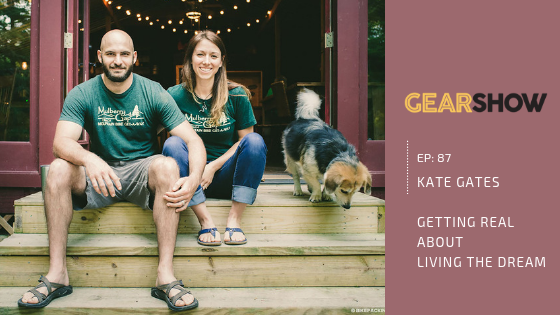 Today, we journey back to Georgia to talk more mountain biking, entrepreneurship, and impostor syndrome – fun stuff :). Kate Gates joins us from Ellijay, Georgia. where she, her husband and parents own and operate Mulberry Gap, a mountain bike getaway in the mountains of Northern Georgia with access to the Pinhoti Trail system.
Kate & Andrew met in high school in 2004, and their families have been close friends ever since. Their dating relationship would be the start of Mulberry Gap so many years later. During the early years of the business, Kate attended Florida State University and graduated in 2011. She and Andrew were engaged during the winter of 2013, and she's been full time with Mulberry Gap ever since.
Interestingly, Kate didn't fall in love with cycling until 2014, when she and Andrew went on their first bikepacking trip in Florida to ride the Huracan 300. Long-distance and endurance rides are now her preferred method of exploring by bike. The bikepacking experiences led her to become a lover of the gravel and experiencing places at a slower pace.
We talk about the trials and tribulations of being an entrepreneur. From the outside, it looks like a dream and for the most part, it is. But it's not without its moments. The timing wasn't the best and they found themselves opening amidst the recession. Hear how they learned and listened from guests, adapted along the way to find their true focus and how it is today. Kate talks about what it's like to battle with impostor syndrome like I'm sure so many of us do; and on a lighter note, what it's like to ride in Georgia. 
So, with that, let's listen in and gear up for what's next.
or
Where to find Kate and Mulberry Gap
Want to do me a huge favor?
Reviewing and sharing are the most helpful ways to get this in front of new listeners.
Make sure and get the next episode in your inbox – subscribe right up there, top right of this page.
If you enjoyed this podcast, I would LOVE it if you reviewed it here on iTunes! It makes a big difference!
I really want to hear from you – questions, topic and guest suggestions, anything. Talk to me in the comments below or here.
See you next week!
[ssba]