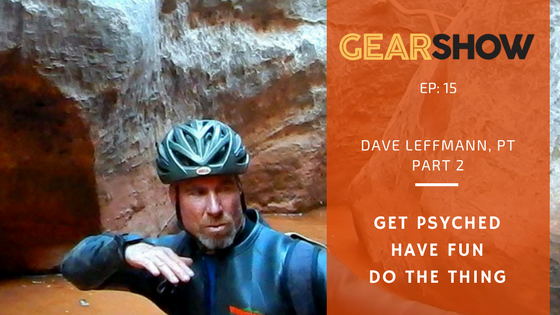 Get psyched, have fun, do the thing
Today's episode will show you the importance of focusing more on your nervous system to perform better and to live more optimistically and fully.
Last month I interviewed Dave Leffmann, physical therapist, soon to be published author, and good friend and mountain playmate about his philosophy on being smart and taking care of ourselves so our bodies last. <— that episode ran last week. But we started to talk about our brains and training them not only for longevity but for better performance, so I took that section and created a second part as a prelude to a short series on mental training for better performance and endurance (next week, we'll talk about mental training for toughness and endurance.)
I find this especially fascinating because I can let my brain tell me some pretty negative stories. Just yesterday, I led a webinar on reporting and measurement for a group of over 70 Solo PR Pros. I woke up in the morning nearly dying from Impostor Syndrome, wondering who do I even think I am saying yes to doing these things? I was glad I'd had this conversation already, that you are about to listen to because I went for a short walk in the woods and had a good discussion with myself out there to get psyched, have fun and do the thing.
Today is part 2 in our mini series on longevity, aging and wisdom. We talk about our mind – the fastest and most adaptable tissue in the body – our nervous system and how our thoughts and outlook on life, scientifically translate to our physical abilities.
We have the power to use our mind to do better not just mentally, but physically and it's interesting because for many, the mind is likely the most overlooked piece of gear we own.
I don't want to get morbid on you, but often we fail to appreciate the important things in our lives until after they are gone. Dave and I have this conversation through the lens of a loved one(s) with terminal illnesses living out their last days to the fullest, and the positive outcomes from that, the work that it has led him to do. Hopefully we all walk away from this promising ourselves to focus more on our nervous system and to live our own lives more optimistically and fully.
I definitely would love to hear from you. Do you beat yourself up? Do you have periods where you need to have good talking to you?  And do you have anything to add or ask? Please do so in the comments or here.
Links mentioned:
Where to find Dave:
Dave isn't really an online kind of guy. He's an outside, offline one. Having said that, here his YouTube channel and information about his upcoming book:
Book will be coming out this fall via Summertime Publications and called: Caregiving 101: A Practical Guide to Caring for a Loved One
Want to do me a huge favor?
Make sure and get the next episode in your inbox – subscribe right up there, top right of this page.
If you enjoyed this podcast, I would LOVE it if you reviewed it here on iTunes! It makes a big difference!
Listen to it here:
or here or here: