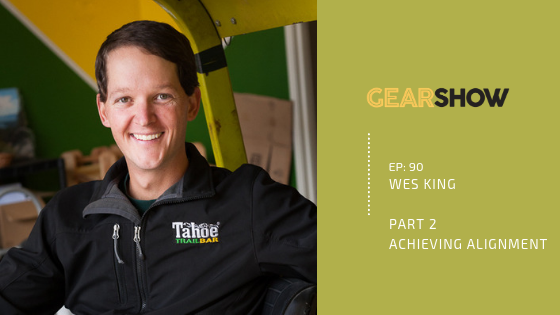 One quick note: Starting this month, we will be producing the Gear Show podcast twice monthly. We are having so much fun with it but too much of a good thing can be too sweet (like too much cake) so we're creating more anticipation, right? Watch for it every other week and thanks for listening.
Today is part two of a fascinating conversation I had with Wes King, founder and CEO of Tahoe Trail Bar, a plant-based, non-GMO, gluten-free line of awesome tasting energy bars. You might want to check out episode 89 if you haven't already and then come back for the continuation but here's a quick recap: Last week, Wes walked us through a time in his life where he was searching for something to do with himself that went beyond getting out on the trail or the snow. 
Now, as the CEO of Tahoe Trail Bar, he has done exactly that and he talked about how he achieved distribution throughout the Western U.S. with direct sales wider than that through Amazon and their own website– all starting from a small coffee shop in Tahoe. 
This week: How do you manage growth so the business doesn't consume you? What is your story and how do you tell it? How does that drive the decisions you make? When you find alignment internally and externally, in Wes' own words, it allows you to marry the thing you love to do with your ability to make a living. And that, my friends, is what's in store for you in this episode.
Also – there is a deal – Get 20% off your next order of trail bars with the code provided in the podcast. Missed it? hit me up and I'll let you know. 🙂
With that, let's listen in and gear up for what's next:
or
Where to find Wes:
Reading List:
Want to do me a huge favor?
Reviewing and sharing are the most helpful ways to get this in front of new listeners.
Make sure and get the next episode in your inbox – subscribe right up there, top right of this page.
If you enjoyed this podcast, I would LOVE it if you reviewed it here on iTunes! It makes a big difference!
I really want to hear from you – questions, topic and guest suggestions, anything. Talk to me in the comments below or here.
See you next week!
[ssba]