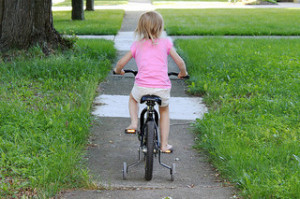 I'm frequently asked by overwhelmed small business owners where to even begin and how to make this whole online world manage-able for them. You guys are out there doing everything yourself, I know. You also have a life outside of your business and there's this thing called sleep, too.
Today I'm going to back up to the basics. Many of you might want to skip today's post and I understand.
As marketers, there is no end to the things we can be doing online, but if I were to synthesize it down into five steps, I'd start here:
Five Steps to Better Online Engagement
Step 1: Research
Typically, we spend four to six week conducting research and analysis for our clients to understand where target audiences are conversing, and what they are saying. You don't have this luxury, so let's simplify.
I am assuming you are a small business reliant on local business. To determine your strategy, enter in your business category + geographic location. In other words, what are you buyers entering into the search field?
Now look at what sites come up on the top of page 1 and make sure you have a presence on those sites. You might find it's Yelp, Urbanspoon, Google Places, or TripAdvisor. That's great – because those sites become integral to your online strategy.
Step 2: Your Website First
Create a website built on WordPress so you can continually add content to your site as you have more time. Make a plan to add a page each month. Be sure your content answers questions your prospects are asking. In fact, create a series of articles that are titled with those questions – if your prospects are Googling these terms, there is a good chance you'll come up in search. The more information you have on your site; the more you can build that trust and relationship.
Every Saturday morning, Scott Simon from NPR comes into my home. He has no idea who I am yet he's created a personal relationship with me because Saturday mornings are sacred family time. Do that. Infuse yourself into the content on your site. Write like you speak. Do it out love, not necessity. Your content will reflect that.
Step 3: Claim Your Local Pages
Claiming your Google Places and Google Plus page is a must for SEO. I usually recommend Yelp for any business owner as well. In addition, you'll want to look at the sites that came up in the research phase.
Claim your page on those sites and load it up with your content – photos, hours or operation, description, and directions.
These sites all rank their listings based on reviews. The more reviews you have, the higher you float up on the list.
Worried about negative comments? Here's a bit on how to respond. 
Step 4: Give your audience a place to share and talk about you.
I'm shooting in the dark here, because it always depends. But most businesses can benefit by a presence on Facebook. Don't spread yourself thin by trying to be everywhere. Facebook is a good entry drug of choice in the social media goodness so start there.
Let's get something straight, no one wants to read your spammy promotional garbage on Facebook. If you wouldn't say it out loud at a cocktail party, don't say it on Facebook. Seriously. That's your filter. Before you hit "post," ask yourself that question. Talk about yourself 20 percent of the time but be interesting – tell a story, share some back of the house nuggets.
Give, give, give, help, help, help. and then give more. This is the remaining 80 percent. As a business owner, I assume you are continually educating yourself on your business and industry, right? Share that with your community. When you read a book, or an article, or when you test something, talk about it on Facebook.
For example, let's take my cousins who have a vegan catering business in San Francisco. I'd tell them the following:
Share recipes and cooking demonstrations of great vegan dishes.
Talk about the benefits and drawbacks of being vegan without being preachy. Share tips and best practices.
What other interests and questions would your community have? Other health and wellness like yoga,  holistic care – share interesting articles and funny images that fall under that umbrella.
Instead of asking me what I'm doing this weekend just to get some engagement, ask me what I'm making for dinner this weekend. Ask for photos on your wall.
Step 5: Let others do the talking for you.
This does a few things: It saves you time, but more importantly, people trust reviews and opinions from those in their network over what you have to say. It's the painful truth, and you know it.
In the case of my cousins, they could ask attendees to tag them when they post photos of the event on Facebook. I haven't mentioned Instagram but that's another great one. You can now have a company page, and users can tag you there. Highlight your customers in some way – they might want exposure – can you get testimonials or case studies and give them some love on your website and Facebook page?
Get your best customers to review you. Do this via your email database with a link to the page to review you. Ask at your point of sale, in your newsletters, and in your mailings.
Do I have to blog?
No. You do not. Listen, blogging is great for business. I LOVE to blog and it has helped my business tremendously. It has helped thousands of businesses grow business. If you are excited about it and ready to love it, do it. If not, don't. For now.
Cut out traditional marketing tactics that haven't been working for you to make time and budget for these things. I don't expect you to closely track and measure your efforts. Yet. But you'll have a sense for what is working and where you're finding success.
Take the first baby step. Get into some basics. Have some fun with it and be yourself. You'll start to get the hang of things and you'll be ready to do more.
Are you ready?
[ssba]