Check out this line at Vail on a powder day. (Now, in full disclosure, Vail later apologized for this atypical experience. It might be unfair to share this, but it illustrates a point I want to make about name recognition and playing against large, established brands)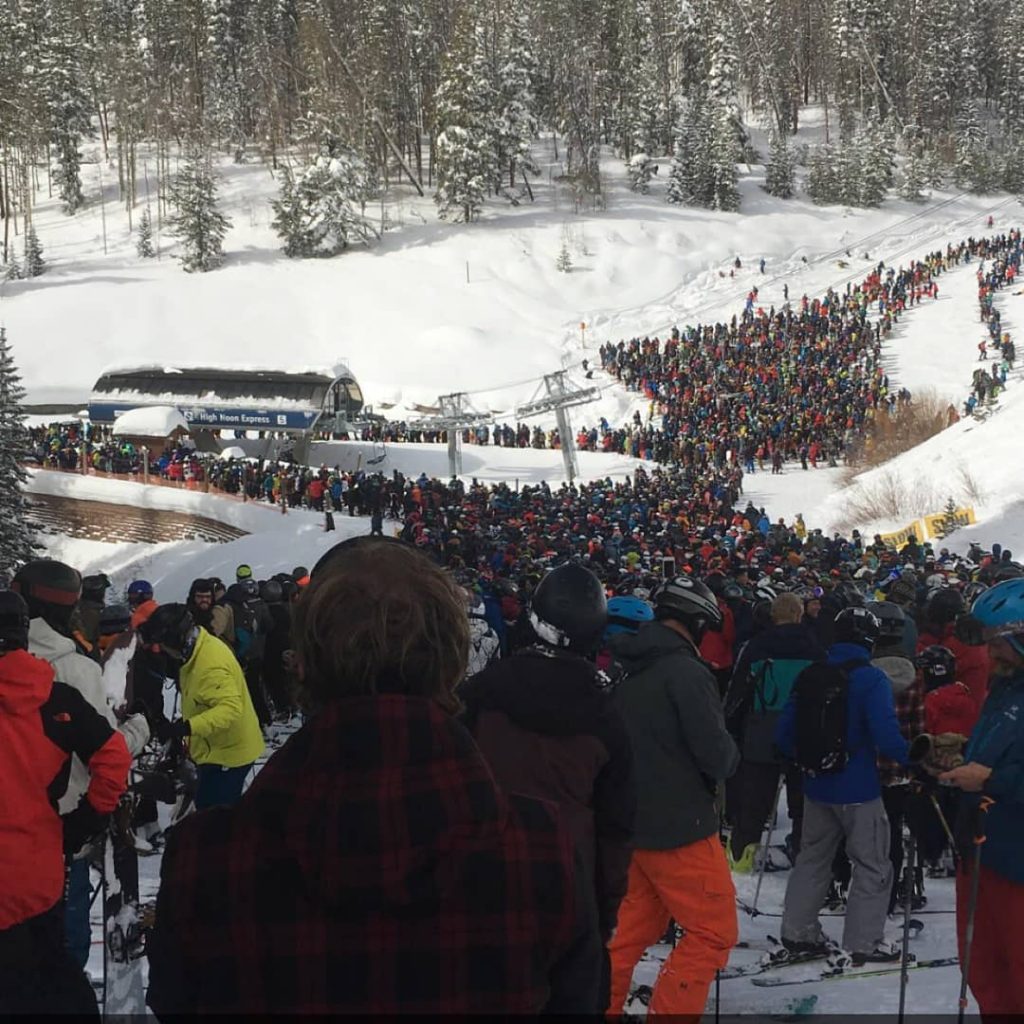 If you're not a skier, powder days are the #goal. I could safely say I specifically designed my life around the ability to capture a powder day as frequently as possible. My wedding vows even ended with, "Unless it's a powder day."
On a powder day, I can ski untracked lines for at least four runs on a weekend, and all day on a weekday. I can enjoy a lower cost lift ticket than Vail, more accessible parking, an uncrowded mountain, a great local vibe. Vail has impressive terrain, yes. They also have world-class restaurants and nightlife.
Depending on what you want in a ski vacation, there is a tradeoff.
Vail gets these crowds for all the reasons mentioned above and: It is just a few hours from Denver while Schweitzer is a few hours from Spokane, WA. (You have to work pretty hard to get to Schweitzer.) Vail has a huge name. You likely have never heard of Schweitzer.
So what is a small player in a field of big players to do?
In the story of David and Goliath, many people thought Goliath was too big to fight, but David didn't think so. He found a weakness in his armor and threw a rock at him, knocking him down to the ground first, and then cutting off his head. Now, that's a bit aggressive if you're just trying to gain some market share, I'll concede.
BUT – when I work with clients who fit this profile, a small player amongst big ones, we look for weaknesses in the armor of the big guys and translate that into our strengths. Vail gets crowded. We don't have to say that. (We're not throwing rocks)
At Schweitzer, you can actually experience the mountains and untracked runs and let your kids have run of the intermediate slopes. We can tell a compelling, positive story when we look for the chink in the armor and use it to our advantage.
Here are a few examples of how it plays out in business. DevaCurl hair products was launched by Curly Girl Method author Lorraine Massey in the mid-90s. It developed a cult-like following thanks to its natural products that helped curly-haired women with their most significant problem: Managing healthy curly hair. Twenty years later, a global hair product brand acquired DevaCurl, and soon after that, a formula change prompted lawsuits from women who suffered damaged hair. Bigger, more recognizable isn't always better.
I've been using Dermalogica skincare products for decades and have always loved them until I came across SIA Botanics in Tucson who's formulations are made from plants in the desert. I had chatted with the founder and curious after our discussion, decided to try the prickly pear cleanser. I immediately noticed a change for the better and am now moving over to this smaller, lesser-known brand at half the price with better results.
Communicating these differences is a challenge; one might even argue a Herculean effort. Buyers want something trusted and known. That's why they pick Vail or Dermalogica or had their odds on Goliath.
Our job: Find the chink in the armor and tell our story from a position of strength in a field of giants.
Ps: Sorry I got metaphor-heavy today.
Further listening:
In my Gear Show podcast, I've had the awesome privilege to speak with three entrepreneurs in particular who have launched a brand in a crowded market of bigger players. You might find their insights helpful:
---
Interested in elevating your organization's positioning with effective storytelling?
Download this ebook: From Transactional to Transformational
---
Stay in touch.
Sign up for our newsletter / podcast to get emails of great stories like this.
[ssba]